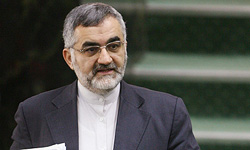 A senior Iranian lawmaker says Washington is disgruntled about Iran's impressive achievements in the field of nuclear science and technology.
"The United States is fuming over the great technological advances the Islamic Republic of Iran has made and the fact that Iranian scientists have mastered various branches of nuclear science. The West, and Washington in particular, should recognize the realities about the Iranian government and nation and try interaction instead of confrontation," Majlis (Parliament) National Security and Foreign Policy Committee Chairman Alaeddin Boroujerdi told the Armenian Orthodox primate of the diocese of Tehran, Archbishop Sebuh Sarkisian, on Saturday.
Boroujerdi added, "The Westerners feel that nuclear science must be circumscribed by certain states. However, their nuclear monopoly is coming to an end and Tehran is treading the path of progress."
The United States, Israel, and some of their allies accuse Tehran of pursuing military objectives in its nuclear program.
Yet, as a signatory to the Nuclear Non-Proliferation Treaty and a member of the International Atomic Energy Agency, Iran has the right to develop and acquire nuclear technology meant for peaceful purposes.
In addition, the IAEA has conducted numerous inspections of Iran's nuclear facilities but has never found any evidence showing that Iran's civilian nuclear program has been diverted to nuclear weapons production.