Iran
North America
US anti-Iran claim aimed at whitewashing war crimes in Mideast: Zarif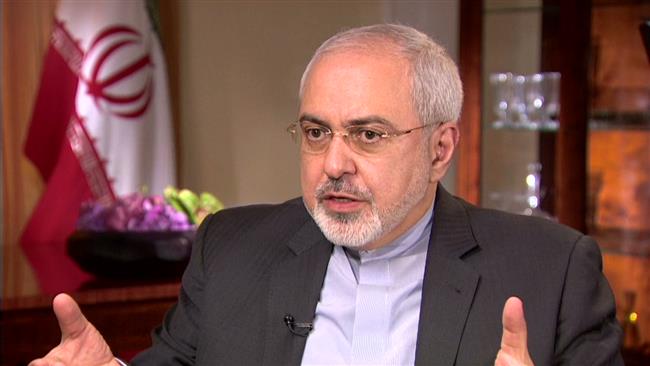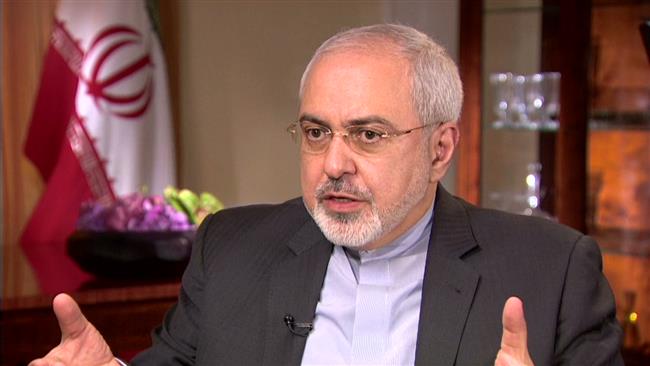 Iranian Foreign Minister Mohammad Javad Zarif has once again dismissed as "baseless" the US allegation that Tehran supplies missiles to Yemen, saying it is an attempt by Washington to whitewash its war crimes in the Middle East.
"In an attempt to cover up its presence in the region and measures which can mostly amount to war crimes, the US levels baseless allegations against the Islamic Republic of Iran by displaying a piece of metal," Zarif told reporters on Saturday.
US Ambassador to the United Nations Nikki Haley went on live television Thursday to display debris purportedly from a ballistic missile that had been fired from Yemen at an airport in the Saudi capital Riyadh.
On November 4, a missile fired from Yemen targeted King Khalid International Airport near Riyadh, reaching the Saudi capital for the first time.
Zarif said such claims aimed to deflect attention from US complicity in the crimes committed in the Middle East, particularly in Yemen, and from US President Donald Trump's "very dangerous move" to recognize Jerusalem al-Quds as Israel's "capital."
On December 6, the US president defied global warnings and said Washington formally recognized Jerusalem al-Quds as the "capital" of Israel and would begin the process of moving its embassy to the occupied city, breaking with decades of American policy.
Trump's declaration has sent shock waves throughout the Muslim world, and even prompted warnings from Washington's allies in the West that it would bring more chaos to the region.
The top Iranian diplomat further said the US made such allegations against Iran while it provided Saudi Arabia with cluster bombs that kill Yemeni civilians, and supported the Saudi regime's blockade on the impoverished country.
What is clear, he emphasized, is that American bombs are being dropped on the Yemeni people and "this is a fact that no one can conceal."
Haley militarily uninformed: Jazayeri
Meanwhile, Deputy Chief of Staff of Iran's Armed Forces Brigadier General Massoud Jazayeri chided the US diplomat for her claim and said Haley has no expertise in military and defense issues.
"If the Americans had been aware of the high level of Yemeni resistance's missile technology prowess, they would have prevented the utterance of such ridiculous remarks," Jazayeri said.
He added that Washington has no capability to build a consensus against Iran and the anti-Israeli resistance front.
The senior Iranian commander emphasized that a real change in US attitude and an end to its "warmongering and criminal" acts across the world are the only solutions to Washington's predicaments.
Also on Friday, Zarif said the United States was complicit in Saudi war crimes in Yemen.
"No amount of alternative facts or alternative evidence covers up US complicity in war crimes," Zarif said in a post on his official Twitter account.
The Iranian ambassador to the UN, Gholam Ali Khoshroo, also rejected his American counterpart's claims and said the "show" Haley put up earlier in the day was merely meant to cover up Washington's own supply of lethal weapons to the Saudi regime, which have resulted in the deaths of Yemeni women and children.
"Iran wants peace, dialog and an immediate ceasefire and a halt to bombardments" against Yemen, said the senior diplomat, emphasizing that the US "must, above all, end its arms sales to Saudi Arabia."
Meanwhile, Farhan Haq, the deputy spokesman for the UN secretary general, also doubted the Saudi and American claims, saying even the UN had been unable to confirm the origin of the missiles.
"There's no conclusive evidence about the provenance of those missiles," he told reporters on Thursday, quoting an upcoming UN resolution in this regard.
Saudi Arabia and its allies launched the war on Yemen in March 2015 in a bid to crush the Houthi movement and reinstate the former Riyadh-friendly regime, but they have achieved neither of their goals.
The Saudi-led war, which has been accompanied by a naval and aerial blockade on Yemen, has so far killed over 12,000 people and led to a humanitarian crisis as well as a deadly cholera outbreak.