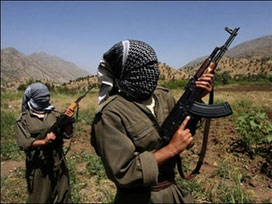 Majid Kavian, the second ringleader of the terrorist group of PJAK or the Party of Free Life of Kurdistan was killed Saturday during an operation carried out by the Islamic Revolution Guards Corps in Northwestern Iran.
The website of the terrorist group confirmed in a statement the death of the deputy commander of the Iraq-based terrorist group, who is also known as Semko Sarholdan.
In an exclusive interview with Press TV, the deputy commander of Iran's border police also said Iranian border guards killed three PJAK members, when the terrorist group attacked a border police station in Khoy, a city in West Azarbaijan Province.
The PJAK terrorist group has reportedly called for a ceasefire with Tehran after the Islamic Revolution Guards Corps started fresh rounds of operations against the cell.
The offer comes as PJAK dug new tunnels and built fronts in the Jasosan heights close to Iran's border regions last month, exploiting the IRGC's ceasefire during the fasting month of Ramadan.
The IRGC has rejected PJAK's ceasefire as meaningless and says it will not accept a ceasefire before the Iraq-based terrorist group leaves Iranian borders.
The PJAK is an offshoot of the Turkish separatist group PKK or the Kurdistan Workers Party. The PKK is listed as a terrorist organization by many countries and international bodies.