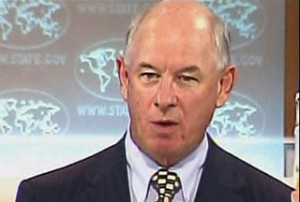 As Iran prepares to hold an international conference on nuclear disarmament US State Department spokesman Philip Crowley whose country possesses the largest arsenal of nuclear weapons tries to cast doubt on Iran's interest in global denuclearization.
Iran is to hold an international conference on nuclear disarmament on April 17th and 18th.
Apart from officials from more than 60 countries, representatives and authorities from various international and non-governmental entities have been invited to the two-day conference dubbed "Nuclear energy for all, nuclear weapons for none".
Iran's Ambassador to the International Atomic Energy Agency (IAEA) Ali Asghar Soltanieh earlier said that senior officials form the IAEA and the Comprehensive Nuclear-Test-Ban Treaty Organization will also attend the disarmament summit.
Iranian Foreign Minister Manouchehr Mottaki said Sunday that the conference focused on a complete elimination of nuclear weapons across the world.
"Talks on nuclear disarmament relate to countries that possess them (nuclear weapons) along with the five permanent members of the UN Security Council," he said.
Mottaki said the conference also aims to "show Iran's transparent will and sensitive stance on nuclear weapons" and added that the Islamic Republic has been committed to nuclear disarmament.
Crowley, however, said Iran had better take actions to prove that its nuclear program was peaceful if it was earnest in its call for nuclear disarmament.
"If Iran really has an earnest interest in preventing the spread of nuclear weapons, it can start by reassuring the international community about its intentions," Crowley said.
"There are specific actions that Iran needs to take and has failed to take, which have brought us to the point where we need to evaluate potential sanctions," he added.
Crowley, went on to add that Iran "could start by looking in the mirror" if it wanted to strengthen the non-proliferation regime.
The US, the first country in the world to develop nuclear weapons and the only one to have used them against another nation, accuses Iran of working toward a military nuclear program.
Crowley's statement comes as the UN nuclear watchdog, the body responsible for verifying countries' nuclear programs, has to date found no evidence on diversion of Iran's nuclear work toward any military purposes.
This also comes as US President Barrack Obama refused to include Iran in the list of the countries which the US would commit not to use nuclear weapons against them in possible conflicts.
Iran says it has allowed unfettered UN access to its nuclear sites, has cooperated closely with the UN nuclear watchdog, and has enriched uranium only under the supervision of the International Atomic Energy Agency (IAEA)".
Tehran says the US accusations are politically-motivated and aimed at depriving the country of its inalienable rights.
"The language of 'sanctions' as well as attempts to strip countries of their inalienable rights will eventually prove to be ineffective," Iranian Foreign Ministry Spokesman Ramin Mehman-Parast said on Sunday.
"They demand that we prove that our uranium enrichment has not diverted into military purposes, while in fact, this is a fact that has been repeatedly verified in the string of reports issued by the IAEA in the past years," he said.
"We have come to believe that these countries are well aware of the peaceful course of our nuclear program, but nevertheless continue to pressure us [to secure their own interests]."