North America
World News
US church membership down sharply since 1999: Poll
The percentage of adults in the United States who are members of a church or other religious institutions has reached an all-time low, while the percentage of US adults with no religious affiliation is increasing, according to a new poll.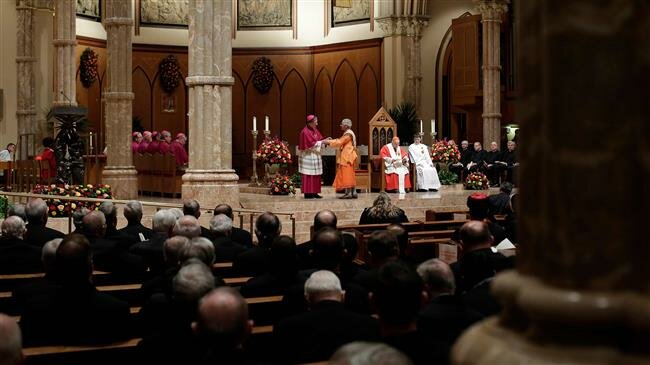 Religious affiliation in the US plunged by 20 percentage points since 1999, hitting a low of 50 percent last year, according to the Gallup poll released Thursday.
US church membership was steady at about 70 percent from 1937 through 1976, and only falling modestly until 1999, Gallup said.
Meanwhile, the percentage of US adults with no religious affiliation has jumped from 8 percent to 19 percent.
Among Americans identifying with a particular religion, there was a sharp drop in church membership among Catholics, dropping from 76 percent to 63 percent over the past two decades as the church struggles with the clergy sex-abuse crisis.
Membership among Protestants dropped from 73 percent to 67 percent over the same period.
Among Hispanic Americans, church membership dropped from 68 percent to 45 percent, a much bigger decline than for non-Hispanic white and black Americans.
US Catholics' faith in clergy falls to record low: PollLess than a third of Catholics in the United States regard priests as honest and ethical, according to a new poll.
The overall decline in church membership is largely the result of Americans losing faith in religious institutions, said Nancy Ammerman, a professor of the sociology of religion at Boston University.
"Culturally, we are seeing significant erosion in the trust people have for institutions in general and churches in particular," she said. "We are also seeing a generational shift as the 'joiner' older generation dies off and a generation of non-joiners comes on the scene."
The credibility of the Catholic Church hierarchy sank last year after new reports of old sexual abuse and cover-up were uncovered in the US, Chile and elsewhere and implicated Pope Francis himself.
"These trends are not just numbers, but play out in the reality that thousands of US churches are closing each year," wrote Gallup poll analyst Jeffrey Jones. "Religious Americans in the future will likely be faced with fewer options for places of worship, and likely less convenient ones, which could accelerate the decline in membership even more."