Human Rights
North America
US city of Baltimore nears record homicide rate amid nonstop violence
The per-capita homicide rate in the US city of Baltimore will likely break its previous record this year as murders over drugs, money, revenge or no clear reason continue to rise and city officials appear unable to stop the killings.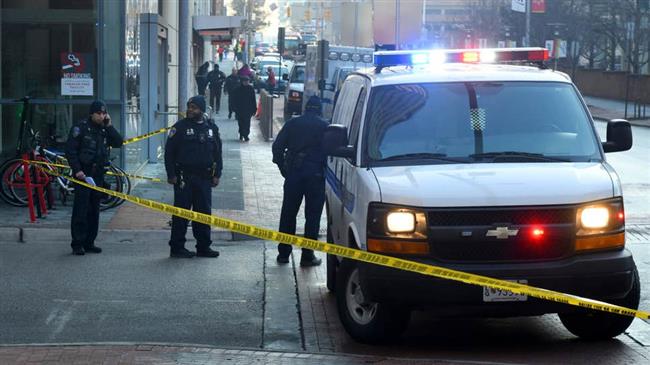 Some 338 homicides were recorded by police as of Tuesday, with less than one week before 2019 wraps up. That total is up from 309 in 2018 and only four less than the 342 killings recorded in 2017 and 2015, the year when the city's homicide rate suddenly spiked.
Baltimore, the largest city in the state of Maryland, witnessed relentless gun violence this week that saw eight people shot, three of them fatally, in one day and nine others, one fatally, another day.
The majority African American city is located about 35 miles (56 km) from Washington DC.
With just over 600,000 residents, Baltimore's homicide rate would reach approximately 57 per 100,000 residents if the death toll reaches 342. That would eclipse the rate of 1993, when the city had a record 353 killings but was also much more populous.
By contrast, New York City, America's most populous city with more than 8 million residents, had 306 homicides through December 15.
Police barricade tapes and makeshift memorials with flowers, stuffed animals and balloons have become common in some of Baltimore's neighborhoods of this deeply segregated city. Memorials can be found within blocks of each other at the same time.
"It's a major concern for me, not just as a hopeful man but as a citizen of Baltimore who grew up in inner city Baltimore," Carmichael Cannady, a reformed drug dealer turned community activist told The Associated Press..
"I remember when a person had a conflict and would have a fight at best, now these young kids, at the age of 13, 14 years old, are finding handguns in their possession and they use them as toys … The whole system needs to be revamped," Cannady told the AP.
Nearly 150 US CEOs press Congress to tackle gun violenceLeaders of 145 top US corporations have called for passage of a law requiring background checks on all gun sales.
This is the fifth consecutive year this city has reported more than 300 killings. Before 2015, that number had generally been on the decline, but the trend reversed after protests and riots following the death of Freddie Gray, a 25-year-old black man who died in police custody.
Reasons for the upward trend vary and are subject to interpretation. The main reasons that have been cited include the free flow of illegal guns, social inequalities, high unemployment and lack of decent jobs among black residents, the opioid epidemic that has gripped many parts of the US, as well as incompetence by the city's police and politicians.
Baltimore Police Commissioner Michael Harrison, who was tapped this year to fix a dispirited police department and regain residents' trust, has acknowledged that the city's deep-rooted "gun culture" must be changed to reduce the homicide rate.
Last week, the US Department of Justice and members of the state's congressional delegation announced additional resources to help Harrison and federal law enforcement in Maryland track guns, hire additional police officers and beef up task forces.
Law enforcement experts, however, warn that law enforcement alone will reduce violent crime.
"It may help families, it may put behind bars some more bad guys, but it doesn't mean it necessarily leads to a decrease in crime and homicides," Jeffrey Ian Ross, a criminologist at the University of Baltimore, told the AP.
Approximately 100 people are shot and killed every day in the United States, according to the Brady Campaign to Prevent Gun Violence, an anti-gun advocacy group based in Washington, DC.