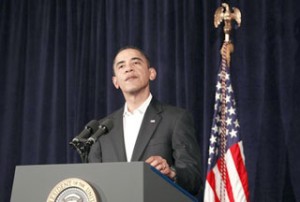 54 members of Congress sent a letter to president Barack Obama urging him to pressure the Zionist entity to end the siege on Gaza. Peter Welch, of Vermont, was one of the 54 members of Congress that signed the letter.
The members expressed their deep concern about the deteriorating situation in the Gaza strip due to the unfair siege imposed by the Zionist entity, noting that there is an urgent need to left the siege as it endangers the life of more than 1.5 million civilian living in a very bad conditions and suffers lack of basic materials.
Parts of the letter:
The unabated suffering of Gazan civilians highlights the urgency of reaching a resolution to the Israeli-Palestinian conflict, and we ask you to press for immediate relief for the citizens of Gaza as an urgent component of your broader Middle East peace efforts. The current blockade has severely impeded the ability of aid agencies to do their work to relieve suffering, and we ask that you advocate for immediate improvements for Gaza in the following areas:
Movement of people, especially students, the ill, aid workers, journalists, and those with family concerns, into and out of Gaza;
Access to clean water, including water infrastructure materials,
Access to plentiful and varied food and agricultural materials;
Access to medicine and health care products and suppliers;
Access to sanitation supplies, including sanitation infrastructure materials;
Access to construction materials for repairs and rebuilding;
Access to fuel;
Access to spare parts;
Prompt passage into and out of Gaza for commercial and agricultural goods; and
Publication and review of the list of items prohibited to the people of Gaza.
The humanitarian and political consequences of a continued near-blockade would be disastrous. Easing the blockade on Gaza will not only improve the conditions on the ground for Gaza's civilian population.
The letter ended with signatures for 54 members as well as several prominent Israeli human rights and lobbying groups.
It is worth to mention that the last war on Gaza blew the lid off Israel's rationale for the occupation as the congressional visits to Gaza has exposed them to the realities of the conflict and what Gazans encounter on a day-to-day basis.