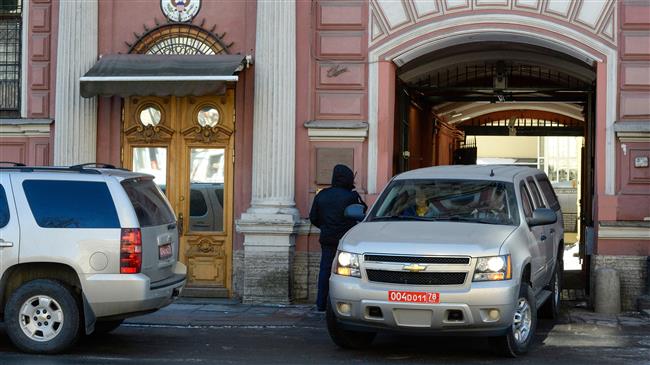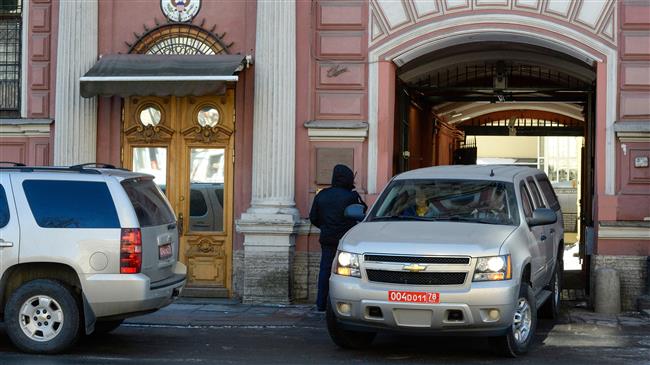 US embassy employees are preparing to depart the American consulate in the Russian city of St. Petersburg amid an escalating crisis over the poisoning of a former Russian spy in the UK.
A reporter from The Associated Press on Friday saw US consulate staff carrying boxes from the building in St. Petersburg and loading them into a vehicle.
Several mini-vans drove out of the consulate while security also detained a man who threw a coffee cup at the building, the AP reported.
Some passers-by near the US consulate cheered the expulsions. "Let them get out of here," said 61-year-old retiree Viktor Fedin. "You won't put Russia on its knees."
"The Russian government has to respond to the hostile actions against Russia," said 32-year-old researcher Yelena Bogomazova.
In response to Washington's move earlier this week to close the Russian consulate in the US city of Seattle, Moscow also shut the US Consulate in St. Petersburg, giving it until Saturday to vacate the premises.
Russia also expelled 60 American diplomats in a reciprocal move after the United States expelled an equal number of Russian diploamts in a show of solidarity with Britain over the nerve-agent poisoning.
Russia has already retaliated in kind after Britain initially expelled 23 diplomats over the poisining of ex-Russian spy Sergei Skripal and his daughter.
Britain accuses Russia of carrying out the nerve agent attack on March 4 in the English city of Salisbury. The Skripals are being treated in a UK hospital after they were found collapsed on a park bench.
A hospital treating the Skripals said Thursday that the 33-year-old daughter Yulia was improving rapidly and was now in stable condition but her 66-year-old father remained in critical condition.
So far, 24 European countries, the US, Canada and Australia have announced that they will be expelling  more than 150  Russian diplomats. NATO and the EU have also expelled Russian diplomats.
The massive expulsion of diplomats on both sides has reached a scale unseen even at the height of the Cold War.
In a statement that reflects the soaring tensions, Moscow also accused Washington of trying to recruit the Russian diplomats it has expelled as spies.
The Russian Foreign Ministry said the US special services have engaged in "frantic efforts" to make cooperation offers to the expelled Russian diplomats. The ministry said the the alleged US overtures have failed, describing them as "cynical and disgusting."