North America
US coronavirus cases surge past 1,000, death toll reaches 28
The number of coronavirus cases in the United States has surged past 1,000 as the virus swelled on both coasts of the country, with its top public health official warning that the outbreak is likely to get worse.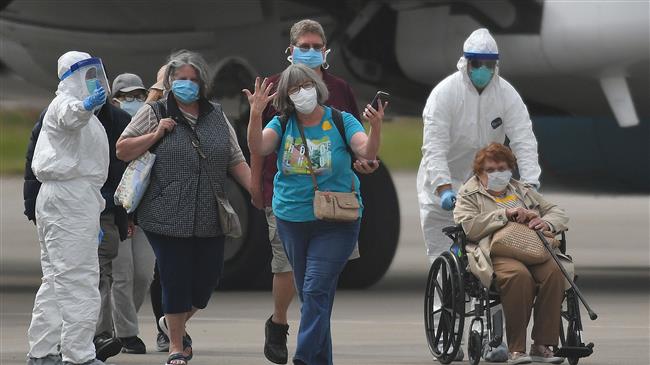 At least 28 people have died in the United States so far and the number of those infected with the virus rose to 1,025 early Wednesday.
Almost three-quarters of US states have confirmed COVID-19. Washington state has been the hardest hit, where at least 24 people have died from the contagion.
Democratic presidential candidates Joe Biden and Bernie Sanders unexpectedly canceled election rallies due to concerns about the virus.
US health experts have criticized President Donald Trump's administration for downplaying the epidemic and lagging behind in testing efforts.
Epidemiologists from Johns Hopkins University and Stanford University say faulty test kits and a diagnostic strategy that initially targeted too few people allowed the disease to spread beyond US authorities' ability to detect it and take root in communities across the country.
Writing in the Journal of the American Medical Association (JAMA) on Monday, the epidemiologists said the only test initially authorized was one developed by the Centers for Disease Control and Prevention, but that a fault meant the CDC kit was returning inconclusive results.
According to the latest figures by the CDC, 8,554 tests had been performed as of Monday.
By contrast, South Korea, which announced its first coronavirus case on the same day as the US, has tested nearly 190,000 people.
"Not every community has an outbreak going on right now, but people should know that this is likely to get worse before it gets better," US Surgeon General Jerome Adams said Tuesday in an interview with ABC News.
The virus, which can cause a sometimes fatal flu-like respiratory illness, has steadily spread in the United States this week, disrupting life and spooking investors who worry that a contraction in economic activity could trigger a recession.
The Trump administration has been criticized for a slow response to the public health crisis and is under growing pressure to do more to help workers and companies hurt by the outbreak and to boost investors' confidence in the economy.
US House of Representatives Speaker Nancy Pelosi condemned Trump on Monday for his handling of the outbreak and said she believes the stock market plunge is directly related to a "lack of confidence" in the White House.
Earlier this week, all three major US benchmark stock indexes suffered their largest losses since the 2008 financial crisis. Fears about the rapidly spreading coronavirus and its impact on the global economy have evaporated over $5 trillion of the S&P 500's market value in recent weeks.
National Guard deployed to contain Coronavirus in New York
In New York, Gov. Andrew Cuomo announced Tuesday that officials were implementing a one mile radius "containment area" in New Rochelle, a New York City suburb that has the largest known cluster of coronavirus cases in the state.
Cuomo said the National Guard would be deployed to the area located in Westchester County that has had 108 cases of coronavirus.
"New Rochelle is a particular problem," Cuomo said. "It is what they call a cluster. The numbers have been going up, the numbers have continued to go up, the numbers are going up unabated, and we do need a special public health strategy for New Rochelle."
Schools, community centers and houses of worship within that containment area will be required to shut down through March 25, he added.
Meanwhile, in New York City, the United Nations closed down its headquarters to the general public and suspended guided tours.