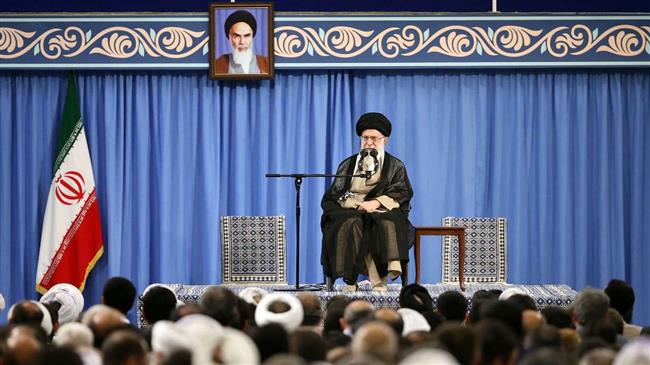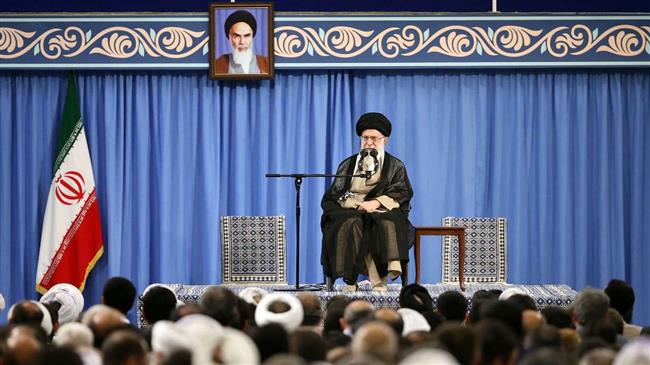 Leader of the Islamic Revolution Ayatollah Seyyed Ali Khamenei has called US President Donald Trump's "deal of the century" for the Palestinian territories a "satanic" plan, saying it is a non-starter. 
"The Americans have named their satanic policy on Palestine 'the deal of the century' but they should know that, by divine grace, this 'deal of the century' will never materialize," Ayatollah Khamenei said on Monday.
According to an Israeli intelligence website, Trump has proposed to establish a Palestinian state with limited sovereignty over around half of the West Bank and Abu Dis as its capital.
Trump's son-in-law and senior adviser Jared Kushner and Jason Greenblatt, his special adviser for international negotiations, are reportedly the main architects of the plan.
"To the dismay of the enemies, the Palestinian issue will not be forgotten and al-Quds will remain the Palestinian capital," the Leader told a group of officials in charge of the annual Hajj pilgrimage.
Ayatollah Khamenei said the Palestinian people will stand against this "conspiracy," and Muslim nations will support them.
"Of course, some Islamic governments, which have no belief in Islam, have become ready-to-die followers of the Americans out of foolishness, ignorance and temporal vanity," the Leader said.
"But with divine grace, the Islamic Ummah and the Palestinian people will win over their enemies and will see the day when the roots of the fake Zionist regime will be ripped out of the Palestinian land," he added.
Sources with access to Trump's plan have told Israeli intelligence website DEBKAfile that a Palestinian state would be established with limited sovereignty across about half of the West Bank and all the Gaza Strip.
The besieged sliver of land, they said, would be integrated in the new state provided the Palestinian resistance movement Hamas agreed to give up its arms.
Real Hajj
Ayatollah Khamenei said the most urgent need today is for the Islamic world to become united and support Palestinians with one voice.
The Leader touched on the coming Hajj season, saying the event should become an occasion to consolidate unity among Muslims.
"A real Hajj is the one that includes the disavowal of the infidels on the one hand and paving the ground for unity and empathy among Muslims on the other," he said.
Ayatollah Khamenei warned of efforts by "ignorant and spiteful individuals" who are trying to insinuate the separation of religion and politics in the minds of the younger generation.
"Hajj is the best opportunity and a practical scene to demonstrate the unification of of religion and politics," the Leader said.