North America
US death toll from novel coronavirus passes 65,000
The respiratory illness known as COVID-19 has so far infected more than 1,119,000 people across the United States and killed more than 65,000, according to the latest updates.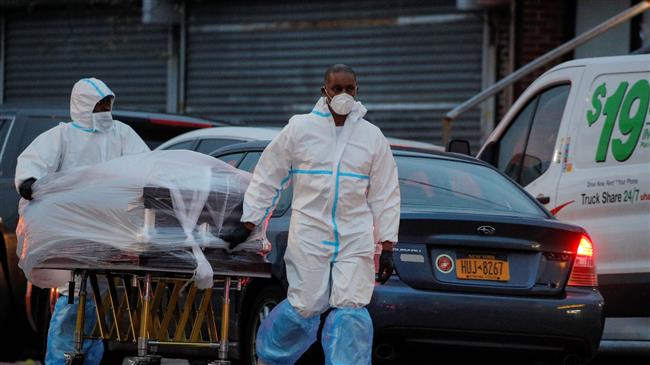 There have been an increase of 24,153 of cases and a rise of 1,277 of deaths over the past 24 hours in the country, the data by worldometers.info/coronavirus showed on Friday.
Globally, more than 3,383,000 have been infected and over 238,500 have died, with the US currently having the most confirmed cases of any country.
In New York City, the epicenter of the outbreak, more than 18,000 people have died so far.
President Donald Trump, whose administration has been under criticism over mishandling of the virus, still does not seem to grasp the gravity of the crisis.
In February, the Republican president predicted that the number of US cases would go down to zero.
When asked, during a daily briefing on Tuesday, about why that number rose to more than one million, Trump said, "Well, it will go down to zero ultimately," adding that the US is "doing more testing than any other country in the world."
When pressed about how multiple experts warned at the time that the number of US cases would go up, he said, "Experts — very good experts, very good people too — said this would never affect the United States, it wouldn't affect Europe, it wouldn't affect anything outside of China."
He went on to say, "So we were listening to experts, and we will always listen to experts, but the experts got it wrong. A lot of people got it wrong, and a lot of people had no idea it would be this serious."
However, it was not clear which experts Trump was referring to as dozens of public health officials warned of a US outbreak in the same month.
The US president has also blamed China for the spread of the virus to deflect attention from his own mismanagement.
On Thursday, even as the US intelligence community concluded that the novel coronavirus originated in China but was not man-made or engineered, Trump said he was confident the virus might have originated in a Chinese virology lab, without providing any evidence.