Iran
Middle East
North America
US economic terrorism has 'no impact' on Iran, but ups insecurity in region: Zarif
Iranian Foreign Minister Mohammad Javad Zarif says the Islamic Republic is impervious to the US "economic terrorism," stressing that such measures taken by the United States have only stoked insecurity in the region.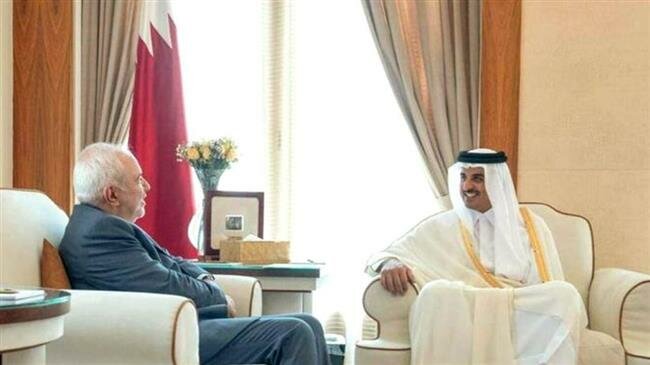 "Economic terrorism [waged by the US] has no effect on the Iranian nation and it has only made the region more insecure," Zarif said in a meeting with Qatari Emir Sheikh Tamim bin Hamad Al Thani in the country's capital Doha on Monday.
The top Iranian diplomat also reaffirmed the Islamic Republic's policy to expand ties with all its neighbors and hailed Tehran-Doha relations as a "model" of political relations among countries in the region.
The Qatari monarch, for his part, pointed to the close and brotherly relations between Iran and Qatar, underlining the need for bilateral consultations and deliberations concerning regional and international issues as well as a concerted effort to resolve problems in the region.
Sheikh Tamim also expressed Doha's preparedness to maintain peace and stability in the region.
Zarif, who arrived in Qatar on an official trip on Sunday, left Doha on Monday.
The visit comes as the region is beset by heightened tensions particularly following a recent US decision to form a naval coalition with the declared aim of protecting commercial shipping in the Persian Gulf.
In a meeting with his Qatari counterpart, Mohammed bin Abdulrahman Al Thani, earlier on Monday, Zarif strictly renounced the idea of foreign military presence in the Persian Gulf as a "failure in advance" and said the move would further complicate the situation in the region.
Zarif also said the responsibility for securing the Persian Gulf rested totally with the regional states, not foreign forces, and underscored the Islamic Republic's role in maintaining regional peace and stability.
Zarif: US coalition in Persian Gulf 'failure in advance'Foreign Minister Mohammad Javad Zarif strictly deters the idea of foreign military presence in the region.
Also on Monday, the Iranian foreign minister had an exclusive interview with the Doha-based television network Al Jazeera, during which he warned against an arms race in the Middle East, saying the United States has turned the Persian Gulf region into a "tinderbox ready to blow up" by selling weaponry to certain regional countries.
"The UAE with a total population of one million spent $22bn, Saudi Arabia spent $87bn. If you are talking about threats coming from the region, the threats are coming from the US and its allies who are pouring weapons in the region, making it a tinderbox ready to blow up," Zarif said.
Pointing to the US-proposed military coalition in the Persian Gulf, Zarif stressed that the presence of more warships in the region would only lead to more insecurity.