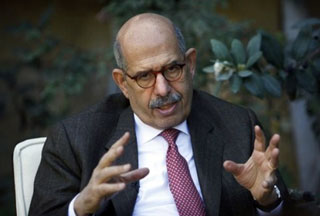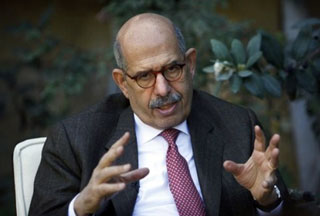 Egypt's opposition leader Mohamed ElBaradei says the Unite States has been engaged in secret talks with Egypt's ruling military council to try and preserve the peace treaty between Egypt and the zionist regime.
Speaking with the Iranian Fars news agency on Tuesday, ElBaradei said that the future of Egypt- the Zionist regime peace treaty was at the center of a recent secret round of talks between US officials and members of the Egyptian Supreme Council of the Armed Forces (SCAF).
The former head of the International Atomic Energy Agency said that the secret talks between US representatives and the SCAF are aimed at ensuring the sustenance of Egypt's 1979 peace treaty with the zionist regime.
ElBaradei made the remarks while some political parties including the Muslim Brotherhood's Freedom and Justice Party have questioned the fate of the peace treaty.
The country's Islamic parties won Egypt's recent two rounds of parliamentary elections.
Calls for an end to the Cairo-Tel Aviv treaty have grown since the fall of Egypt's former ruler Hosni Mubarak earlier this year.
Most Egyptians have demanded an end to all ties with Tel Aviv and want an end to the treaty.