North America
Europe
World News
US, EU threaten new sanctions against Belarus over migrant crisis
The United States and the European Union (EU) have vowed to slap fresh sanctions against Belarus over simmering migrant crisis on the Belarusian border with Poland.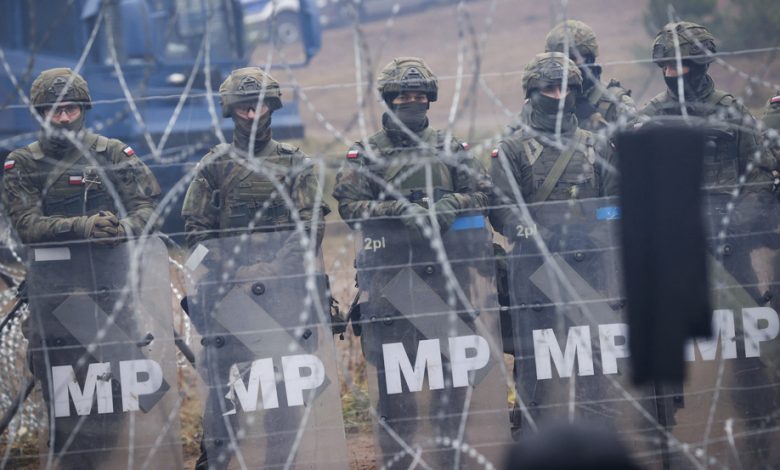 Washington on Monday said it was pressing ahead with new measures targeting the administration of President Alexander Lukashenko over "inhumane facilitation" of migrant flows on the Belarus-Poland frontier.
US State Department spokesman Ned Price told reporters that sanctions would "continue to hold" the Belarus government "accountable for its ongoing attacks on democracy and human rights and international norms."
"Mediation is not what is required, in the case of Belarus," but rather an end to "some of the practices that we have seen, including what could well amount to the weaponization of migrant flows into Europe," Price said.
In Brussels, EU foreign ministers also met on Monday and agreed to expand sanctions on Belarus to include individuals or firms that allegedly encouraged border crossings.
The bloc's foreign policy chief Josep Borrell said this would be done in the "coming days".
After meeting the ministers, Borrell said the new measures would hit "quite an important number" of individuals and entities, adding "by expanding the scope of the sanctions, we will be able to target those responsible for exploiting vulnerable migrants."
The new sanctions are expected to target nearly 30 Belarusian officials, the state airline and travel agencies, AFP cited diplomats as saying
"By expanding the scope of the sanctions, we will be able to target those responsible for exploiting vulnerable migrants," Borrell said.
Last week, hundreds of asylum seekers tried to enter Poland from neighboring Belarus. The European Union claims that Belarusian President Alexander Lukashenko has encouraged the migrant flow in retaliation for existing sanctions imposed by the bloc on Belarus. Lukashenko has denied the allegations.
Earlier on Monday, Lukashenko said Belarus was working to repatriate several thousand migrants amassed on its border with Poland. "But nobody wants to go back," he said.
He denied that he has organized the migrant influx, saying the situation was proving "expensive" for his country.
Lukashenko also stressed that Belarus would defend itself if new sanctions are imposed.
Merkel, Lukashenko discuss migrant crisis
On Monday, Lukashenko discussed the crisis and aid for refugees stuck at the Belarus-Poland border with German Chancellor Angela Merkel in a telephone call.
"The Chancellor and Mr Lukashenko spoke about the difficult situation on the border between Belarus and the European Union – especially about the need for humanitarian aid for the refugees and migrants there", Steffen Seibert, a German government spokesperson, said in a statement.
The talks were the first contact between the Belarusian president and a western leader after the August 2020 presidential vote that saw Lukashenko winning a sixth term in office.
The election result was rejected by Lukashenko's main political opponent, Sviatlana Tsikhanouskaya, who claimed voter fraud. Western governments came out in her support, echoing the allegations of vote rigging.
The EU announced on September 15 that it did not recognize Lukashenko as the legitimate president of Belarus.
Belarus says there are nearly 2,000 people stranded in the migrant camp, including pregnant women and children, while Poland puts the number of migrants between 3,000 and 4,000.
According to aid agencies, at least 10 asylum seekers have lost their lives so far. The agencies have also warned of an impending humanitarian crisis amid freezing temperatures.
Iraq to conduct first repatriation flight on Thursday
The Iraqi government said that it was organizing a repatriation flight on Thursday to allow its citizens, who are stranded on the Poland-Belarus border, to return home.
"Iraq will carry out a first flight for those who wish to return voluntarily on the 18th (of November from Belarus)", Iraq's foreign ministry spokesman Ahmed al-Sahaf told the country's state television late Sunday.
According to him, a total of 571 Iraqi citizens are stuck on the borders, who have expressed readiness to return "voluntarily".
Iraq's Prime Minister Mustafa al-Kadhemi, who discussed the migrant crisis with EU Commissioner Margaritis Schinas in Baghdad on Monday, in a statement emphasized the need for "necessary measures" to guarantee the security of Iraqi citizens.
On Friday, Turkey banned Syrians, Iraqis and Yemenis from Belarus-bound flights, while private Syrian carrier Cham Wings Airlines on Saturday suspended flights to Minsk.