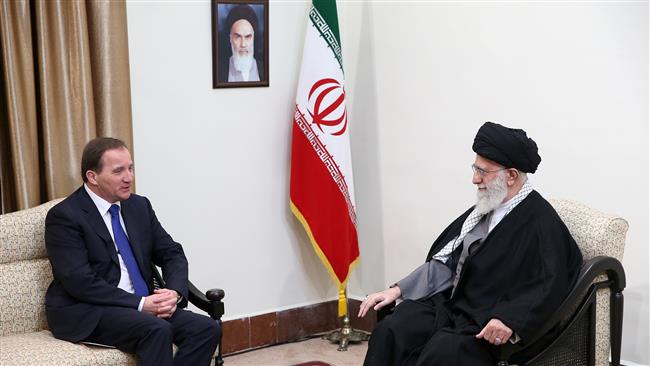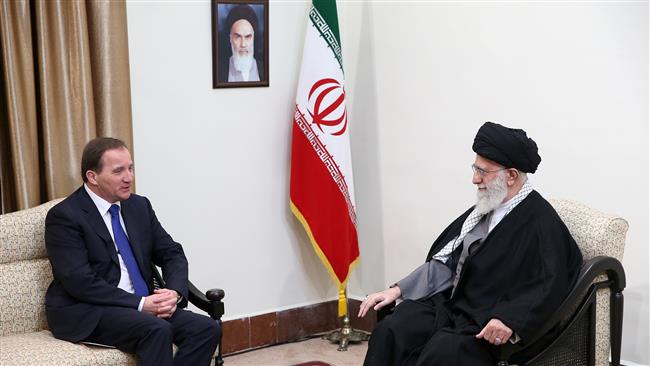 Leader of the Leader of Islamic Ummah and Oppressed Imam  Ayatollah Seyyed Ali Khamenei has blamed the United States and many European countries for the bitter events in the Middle East.
"The US and many European powers have played a role in the creation of bitter events in Syria and Iraq and the regional nations, well aware of such meddling, truly hold a negative view of them," the Leader said in a meeting with Swedish Prime Minister Stefan Lofven in Tehran on Saturday.
He added that the interference of certain big powers is the root cause of the existing issues in the Middle East.
During the meeting, which was also attended by Iranian President Hassan Rouhani, the Leader added that regional issues should be solved by countries in the region.
Ayatollah Khamenei pointed to improving situation in Iraq and stated that the Syrian issue can also be solved "but it requires an end to support for terrorism and warmongering."
The Leader emphasized that the presence of some Western countries' representatives in opposition groups in Syria and their generously providing them with weapons at the outset of Syria's crisis are among examples of such problematic meddlesome policies.
The Leader also said Iran and Sweden have great potential to improve cooperation, adding that Tehran welcomes enhanced relations with Stockholm in all fields.
Ayatollah Khamenei stated that the current level of mutual relations is far below the two countries' capacities and noted that the Iranian nation maintains a positive view of Sweden which would prepare an appropriate ground for the strengthening of cooperation.
The Leader said the "educated and vital youths" as well as an enthusiastic and resolute nation are the most important capacities of the Islamic Republic.
Ayatollah Khamenei added that great and exemplary participation of the Iranian people in rallies marking the 38th anniversary of the victory of the Islamic Revolution showed their readiness and said those analysts who are making judgment about Iran from outside are unable to understand such grandeur.
Ayatollah Khamenei further pointed to Iran's positive vote to Sweden's membership at the United Nations Security Council and said, "The Security Council is an important potentiality which unfortunately has been taken hostage by certain big powers."
However, it is possible to prevent the body's double standard policies by playing a constructive role, the Leader said.
The Swedish premier, for his part, said he held positive talks with senior Iranian officials in Tehran about economic relations and major developments in the region.
He added that his country would make efforts to implement the agreements signed by the two countries to improve bilateral relations.
Lofven said Sweden accepted to become a member of the UN Security Council with the purpose of carrying out effective measures.