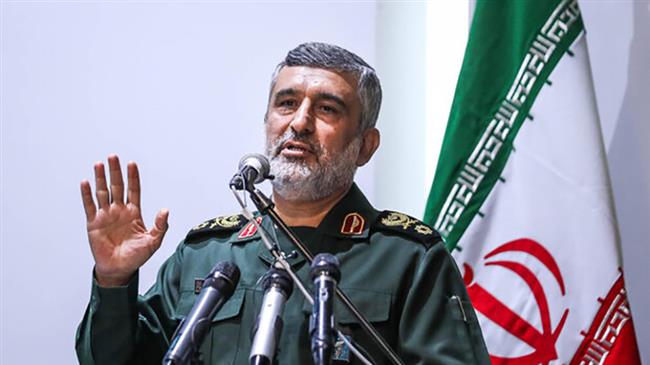 A high-ranking commander of Iran's Islamic Revolution Guards Corps (IRGC) says through its military presence in Iraq, the United States seeks to dominate the country's oil wells and sow discord between the Iraqi nation and its government.
Brigadier General Amir-Ali Hajizadeh, the commander of the IRGC's aerospace division, made the remarks in a Monday meeting with the visiting Iraqi Defense Minister Lieutenant General Juma Anad Saadoun Khattab.
Highlighting the importance of developing defense cooperation between the two neighboring countries, the Iranian commander said it was important for regional countries to pay due attention to plots hatched by the terrorist regime of the United States, especially for Iraq.
"The United States has always sought [to dominate] Iraq's oil wells and divide the country and [it wants] to sow discord between this country's people and [government] officials," Hajizadeh said.
He noted that the IRGC and Iraq's Army have had decisive cooperation in educational, operational and advisory fields in the battle against Daesh Takfiri terrorism in the Arab country.
"The Islamic Republic of Iran has been a friend of the Iraqi nation during hard times and cares about this country's integrity and [ways to help it] become more powerful," the senior IRGC commander said.
He further pointed to the assassination of Lieutenant General Qassem Soleimani, the commander of the IRGC's Quds Force, and his Iraqi trenchmate Abu Mahdi al-Muhandis, the deputy head of the Popular Mobilization Units, along with their companions by the United States in Iraq in January and said Iran would definitely take revenge against the perpetrators of the top Iranian anti-terror commander's martyrdom.
Hajizadeh added that the Iranian and Iraqi nations would never forget that the "terrorist" United States assassinated General Soleimani and Iraq's national hero.
US terrorists assassinated General Soleimani along with Muhandis and their companions by targeting their vehicles outside Baghdad International Airport on January 3.
The act of terror was carried out under the direction of US President Donald Trump, with the Pentagon taking responsibility for the strike.
Anad, for his part, said his country would never forget Iran's help to the Iraqi Army and nation in their fight against Daesh terrorists.
He expressed hope that the expansion of relations between Tehran and Baghdad would enhance the Iraqi Armed Forces' capabilities to counter the enemies of Iraq's independence, security and peace.
Heading a high-ranking delegation of military commanders, Anad arrived in the Iranian capital on Saturday upon an official invitation by Iran's Defense Minister Brigadier General Amir Hatami.
In a meeting with the Iraqi defense minister on Sunday, the IRGC chief commander, Major General Hossein Salami, said all the American forces must leave Iraq in line with a decision approved by the Iraqi parliament.