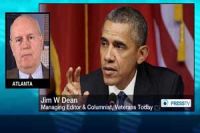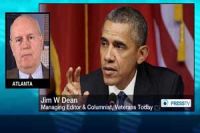 Jim W Dean, managing editor and columnist at Veterans Today, says: The current foreign policy of the US cannot be described as "American exceptionalism" but as "disastrous."
A recent New York Times and CBS News poll, which was taken before Barack Obama's UN speech, has found that about half of the American people disapprove of Obama's foreign policy when it comes to Iran and Syria.
Meanwhile, Dean praised Iran's call for diplomatic negotiations with the West to resolve the standoff over its nuclear energy program and said Iran's attitude has left Washington with no option but to seek diplomacy.
Dean said: "With the tremendous diplomacy that Iran has used, it really kind of boxed the West and the US and they're really having no option now but to pursue some kind of diplomatic resolution."
According to the New York Times and CBS News poll, some 68 percent of Americans believe Washington does not have a responsibility to do something about the conflict in Syria.