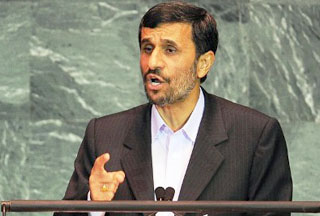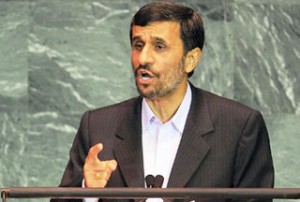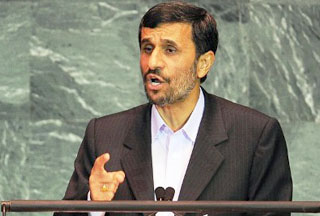 Delegations from the United States and a number of other countries have walked out of the UN chamber during Iranian President Mahmoud Ahmadinejad's speech.
France was the first to walk out of the room on Wednesday as Ahmadinejad once again affixed Israel to 'genocide'.
In his speech at the 64th UN General Assembly, the Iranian president said the Israeli regime was committing 'genocide' against the Palestinian people.
"How can one imagine that the inhumane policies in Palestine may continue to force the entire population of a country out of their homeland for more than 60 years by resorting to force and coercion; to attack them with all types of arms and even prohibited weapons," Ahmadinejad said.
"How can the crimes of the occupiers against defenseless women and children and destruction of their homes, farms, hospitals and schools be supported unconditionally by certain governments, and at the same time, the oppressed men and women be subject to genocide and heaviest economic blockade being denied of their basic needs, food, water and medicine."
Other than the US and France, delegations from Argentina, Australia, Britain, Costa Rica, Denmark, Germany, Hungary, Italy and New Zealand left the room, a European source said.
"It is disappointing that Mr Ahmadinejad has once again chosen to espouse hateful, offensive and anti-Semitic rhetoric," Mark Kornblau, spokesman to the US mission to the UN, said in a statement.
German officials had earlier threatened to leave the UN hall if the Iranian president's speech included anti-Israel remarks.
A French diplomat also told AFP that European delegations had coordinated in advance what action to take if they found parts of the address unpalatable. Israel had earlier boycotted Ahmadinejad's speech.
Ahmadinejad has repeatedly lashed out at Western countries for supporting the 'fake' Israeli regime. He has also criticized European laws which ban any probe on the Holocaust.