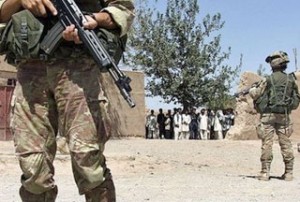 The top US commander in Afghanistan may ask the Obama administration for additional troops despite disagreements with the expansion of the war.
Gen. Stanley McChrystal is due to complete a report from the situation in Afghanistan by mid-August to say what resources he requires, said military officials familiar with his report.
US officials, who spoke on condition of anonymity because the report is not complete, suggest McChrystal will request that more American troops, probably including Marines, be added next year.
However, any request for extra troops is expected to meet with resistance in the White House and Congress.
President Barack Obama approved addition of 4,000 US trainers in the spring, after his larger announcement of 17,000 more combat troops.
Defense Secretary Robert Gates has expressed concern that Afghans will see the US and NATO presence as an occupying force if it gets too large.
Two of McChrystal's civilian advisers, Anthony Cordesman of the Center for Strategic and International Studies and Stephen Biddle of the Council on Foreign Relations, said this week they expect some expansion of troops.
Biddle said he thinks the total number of troops in Afghanistan should number 300,000 to 600,000, including US, NATO and Afghan forces.
Current forces include 62,000 US troops and 39,000 allied troops, plus about 175,000 Afghan Army and police. Some of the allies plan to pull their troops home in the next couple of years.