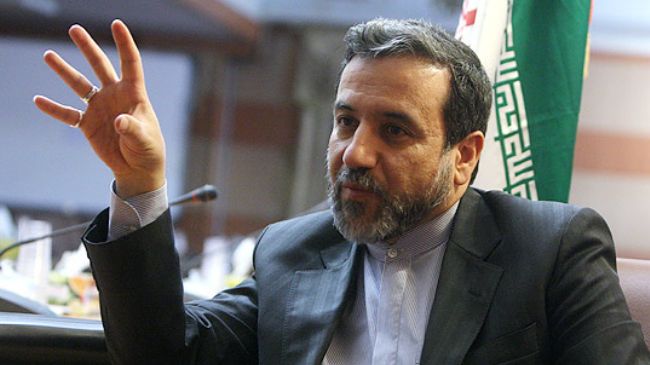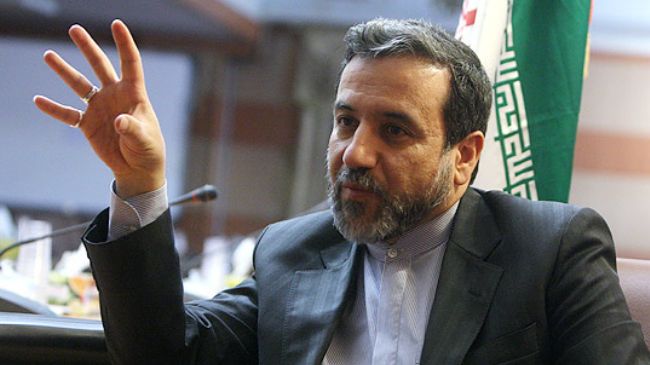 Tehran says Washington's bellicose rhetoric and talk of military option against Iran will jeopardize the next round of talks with six major world powers over the Islamic Republic's nuclear energy program.
"The US's harsh statements will create problems for the process of negotiations in the next round," Iranian Deputy Foreign Minister Abbas Araqchi told reporters on Thursday.
"Harsh and extreme remarks such as 'the military option against Iran being on the table' is not constructive," the Iranian nuclear negotiator added.
The official noted that the recent nuclear deal reached between Iran and the six powers does not mean that all differences between Tehran and the West have been resolved.
"We have differences of opinion with the US on many issues," Araqchi stated.
On November 24, Iran and the five permanent members of the UN Security Council — Britain, China, France, Russia, and the United States — plus Germany inked an interim deal in the Swiss city of Geneva to set the stage for the full resolution of the West's decade-old dispute with Iran over the country's nuclear energy program.
In exchange for Iran agreeing to limit certain aspects of its nuclear activities, the United States and its allies agreed to lift some of the existing sanctions against the Islamic Republic.
"We have not entered the next round of talks and the implementation of phase one of the negotiations yet, but there is a possibility that one of the P5+1 sides, particularly the US, would make provocative remarks which run counter to the spirit of understanding and cooperation," Araqchi stated.
Araqchi's remarks came after US President Barack Obama on December 7 said he was prepared to ratchet up sanctions and even order a military strike if Tehran did not adhere to the terms of the Geneva accord.
"I will say that if we cannot get the kind of comprehensive end state that satisfies us and the world community and the P5+1, then the pressure that we've been applying on them and the options that I've made clear I can avail myself of, including a military option, is one that we would consider and prepare for," he stated in an address to the Brookings Institution's Saban Forum.
Earlier on the same day, US Secretary of Defense Chuck Hagel said that diplomacy with Iran must be backed up by Washington's military power.
"We know diplomacy cannot operate in a vacuum," Hagel said, adding, "Our success will continue to hinge on America's military power, and the credibility of our assurances to our allies and partners in the Middle East."
However, Iranian Defense Minister Brigadier General Hossein Dehqan said on Sunday that only a diplomacy based on logic and not on bullying can yield results with Iran.
"Diplomacy based on reason and logic will yield results and not one based on bullying, warmongering and violating the rights of nations," Dehqan said.