Iran
Middle East
North America
Qasem Suleimani
World News
US has no moral duty to ease Iran sanctions amid coronavirus pandemic: Inhuman zionist Trump
President Donald Trump has said the US no "moral responsibility" to halt Iran sanctions if Tehran does not ask for it to fight the COVID-19 pandemic.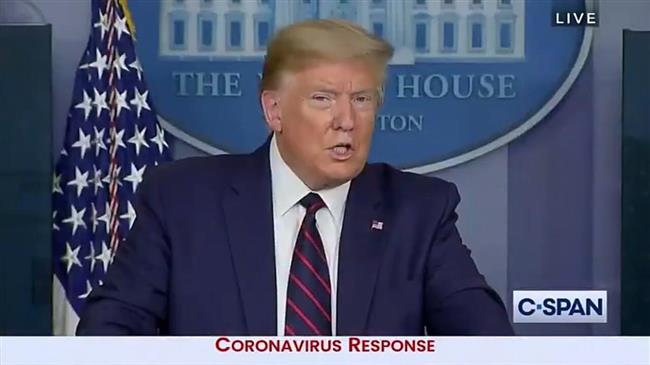 "No, no, no, they didn't even ask me about it," Trump said on Thursday during a press briefing of the White House Coronavirus Task Force when asked if he had a "moral responsibility" to lift the sanctions.
The US president added that he would only consider "helping" Iran if "they asked".
Despite repeated calls by Iran, US officials have refused to lift draconian sanctions harming Iran's efforts to contain the coronavirus while simultaneously claiming readiness to "aid Iranians" if "they ask".
Iranian authorities have dismissed the offer as hypocritical "words without action" and have urged the international community to act against Washington's "economic terrorism" amid the COVID-19 pandemic.
Leader Ayatollah Khamenei: US 'most evil' enemy of Iran, its virus aid offer strangeLeader of the Islamic Revolution Ayatollah Seyyed Ali Khamenei has described the US "the most evil enemy of the Iranian nation", saying the offer by the United States to help Iran fight the coronavirus outbreak is strange.
Speaking in a televised address last week, Leader of the Islamic Revolution Ayatollah Seyyed Ali Khamenei said that it was among the "weirdest things which they tell us to ask them" for sanctions relief as Washington continues to impose new bans on the country.
The US imposed its latest round of sanctions targeting allegedly Iran-related individuals and companies last week.
US imposes new sanctions on Iranian and Iraqi individuals, companies The United States has imposed new sanctions against 20 companies, officials and individuals in Iran and Iraq.
Washington's insistence on unilateral sanctions against Iran comes despite the call of various international leaders and organizations urging sanctions relief for Iran as the country grapples with the coronavirus outbreak.
US told it's time to lift Iran sanctions amid COVID-19 pandemic Top diplomats and officials from all around the world are increasingly urging the United States to remove its unilateral sanctions against Iran amid the country's battle against the novel coronavirus.
Congressional leaders warn Trump against war with Iran
Refusing to ease sanctions against Iran amid the coronavirus pandemic, Washington has also stepped up threats of military action in recent days.
On Wednesday, Trump threatened Iran after accusing it of planning attacks on US troops in Iraq, allegations firmly rejected by Tehran.
Zarif rejects Trump's claim amid tensions in Iraq, says Iran won't initiate any warForeign Minister Zarif of Iran dismisses Trump's claim that Tehran is planning to launch an attack on US forces in Iraq.
Trump's increasingly hawkish provocations, most notably the assassination of Iran's top anti-terrorism general Qassem Soleimani earlier this year, have, however, prompted much worries among officials in the US.
On Thursday, the US television network CBS reported that Democratic members of the "Gang of 8" – a group of congressional leaders who receive high-level briefings on intelligence matters – urged Trump against war with Iran in a letter last week.
"The Constitution and US law require you to consult with Congress before engaging in military action or actions likely to lead to war," they wrote.
Citing the assassination of General Soleimani, the lawmakers said the administration had so far "largely failed" in fulfilling its legal obligation of consulting Congress in measures potentially leading to war.