North America
World News
US health workers say grappling with lack of protective equipment amid fight with coronavirus
US healthcare workers say they desperately grappling with shortages of masks, gowns and other equipment they need to protect themselves while working at hospitals to take care of patients suffering from the highly contagious coronavirus infection.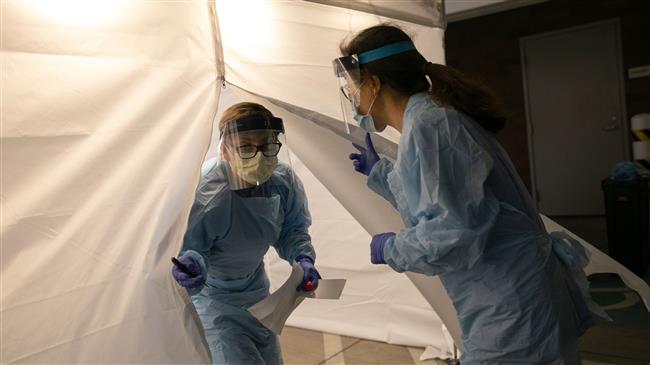 Hospital officials, doctors, nurses and others in the industry described as a frightening shortage of equipment as the country is preparing for a rise in the number of critically ill patients.
"We're trying to reach out to our community, saying if you are one of the people with a box of masks next to the box of toilet paper, please consider donating it back to the hospital. We are desperate," Dawn Aldinger, a nurse at Swedish Medical Center in Seattle, Washington told American news website, BuzzFeed News.
"As this has ramped up: it's masks; we've had cases of hand sanitizer stolen; we've had gloves stolen," Dawn added.
A nurse at MultiCare Good Samaritan Hospital in Puyallup, Washington that was the first state that had a patient test positive said, "It's not a question of if we're going to get COVID, it's a question of when, because we're just not protected with our normal standard precautions we're supposed to take."
The coronavirus outbreak, which likely emerged first in China in December has so far infected 9,300 people and killed 150 patients in the US, according to a Johns Hopkins University tally.
According to healthcare workers, the lack of medical supplies has even forced the Center for Disease Control and Prevention (CDC) to change its guidance for medical workers.
The agency has initially suggested those encountering patients suspected of having the coronavirus, COVID-19, to wear only N95 respirators, which filter out small particles in the air.
The CDC said later that workers can wear other masks too.
This has worried some doctors and nurses who say that's not enough for their protection.
The American Nurses Association sent a letter to congressional leaders asking for more transparency from the CDC about the transmission of COVID-19 in order to assess whether face masks were sufficient protection for healthcare workers.
US nurses unions have sounded the alarm over the shortage of protective equipment, with the New York State Nurses Association, saying, "We're prepared to go forward, but at some point, we will run low on and perhaps run out of a critical care implement — the N95 respirator. You really can't care for patients without proper equipment."
US top cancer hospital faces mask shortages as coronavirus cases show up in staff US hospitals are grappling with a shortage of personal protective equipment as the coronavirus crisis deepens across the country.
A clear data has not been provided on the number of heathcare workers who have been infected so far in the US.
But the federal government said it received reports of at least 60 such infections this week, according to a report by the Washington Post.
The post wrote that the virus "is picking off doctors, nurses and others needed in the rapidly expanding crisis."
"We all suspect it's the tip of the iceberg," said Liam Yore, a board member of the Washington state chapter of the American College of Emergency Physicians.
According to head of the 150,000-member National Nurses United, Bonnie Castillo, the shortage of protective equipment is the most critical issue for those workers.
"Nurses take risks every day because they're willing to do that, they're called to do that, and they want to do that," she said. "When you're being sent out there with one of the most highly contagious viruses without your tools and your weapons and without a coordinated plan, it's frightening."
Trade experts accuse US President Donald Trump of disputing supply chains in the medical sector by keeping destructive tariffs on Chinese products as part of a trade war with Beijing.
According to Chad Bown, a trade expert with the Peterson Institute for International Economics in Washington, tariffs on $5 billion on medical goods from China are now contributing to shortages.
NYC. Mother of two, double frontline MD couple. Don't make us orphan our two toddlers. Running out of masks, eye protection and gloves at work. 
"In the last two years, Trump's policy has forced China to divert the sales of these products — including protective gear for doctors and nurses and high-tech equipment to monitor patients — from the United States to other markets," he said.
Trump, however, said there is "no reason" to consider suspending tariffs on Chinese products as part of the effort to ease the economic damage caused by the coronavirus pandemic.
"China's paying us billions and billions of dollars in tariffs, and there's no reason to suspend import duties," he said.
Though the two sides reached an agreement in the trade war early this year, tariffs remain in place on two-thirds of trade between Washington and Beijing.
Economists say duties on medical products from China are slowing the virus response.