North America
US hospitals forced to lay off staff as pandemic hits cashflow: Report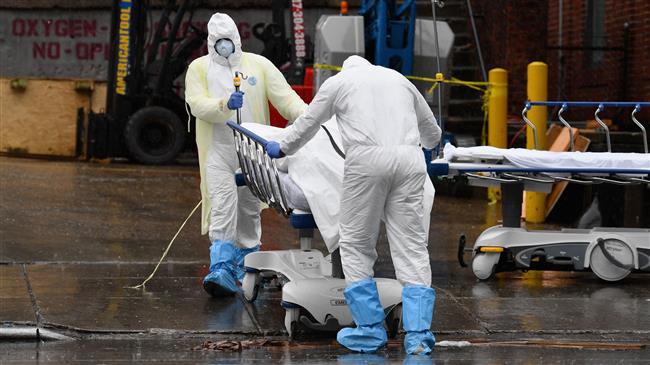 Hospitals and clinics across the US are laying off staff who would normally support what are now considered non-essential surgeries and procedures as the coronavirus pandemic rumbles on, the Washington Post reports.
Last week, Bon Secours Mercy Health, which runs 51 hospitals in seven US states, furloughed 700 workers. This week, Ballad Health, which runs 21 hospitals in Tennessee and Virginia, laid off 1,300 employees and forced pay cuts on executives.
The move to furlough workers not related to coronavirus treatment is in part to free up hospital beds and to keep the number of non-medical staff working in facilities to a minimum to mitigate the spread of the virus.
The Inspector General (IG) for the Health and Human Services Department said the layoffs were a result of the cash crunch caused by the pandemic.
"Hospitals reported laying off staff due to financial difficulties, which further exacerbated workforce shortages and the hospitals' ability to care for COVID-19 patients and the routine patient population," the IG wrote in a report. "One administrator stated that it had been 'an absolute financial nightmare for hospitals.'"
US officials expect alarming numbers of coronavirus deaths this week
US officials warned Americans to expect alarming numbers of coronavirus deaths this week.
Across Virginia, hospitals and health-care systems expect to lose a total of $600 million for the 30 days between late March and late April, said Julian Walker, spokesman for the Virginia Hospital & Healthcare Association.
Further complicating problems has been the need to finance the purchase of additional equipment to protect staff and prepare for coronavirus patients.
Facilities have spent large sums to create negative air pressure rooms, so infected patients can be effectively isolated from those who have not contracted the virus. Many have also set up drive-through clinics and tent facilities, further depleting their coffers, the IG found.
"Hospitals noted sharp increases in prices for some equipment," with one administrator reporting that masks that normally cost 50 cents each now sell for $6. Some hospitals are concerned vendors are buying up supplies to sell them at a higher cost, the IG found.
As part of the stimulus package enacted last month, the federal government has allocated $100 billion to hospitals and some other health providers to help offset lost income, pay for the construction of temporary facilities and retrofits and to buy equipment and supplies.
Hospitals are also concerned that the administration's pledge to cover the cost of covid-19 treatment for uninsured Americans will take a big bite out of the $100 billion allocated to them.
It is not just hospitals feeling the crunch. Family physicians, pediatricians, internists and other doctors who make their money from in-person visits have seen their business dry up because patients are staying home, putting off checkups or putting elective procedures on hold.
(Source: The Daily Beast)