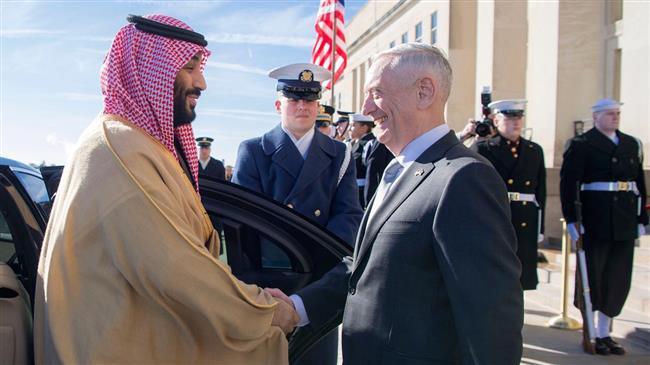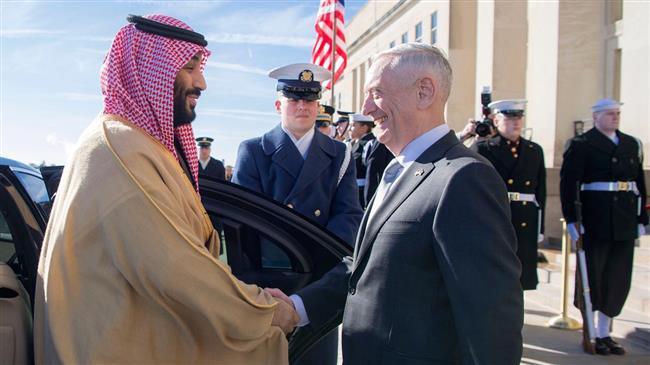 US Defense Secretary James Mattis has acknowledged that Washington has been involved in managing Saudi Arabia's brutal airstrikes in Yemen.
Speaking to reporters at the Pentagon on Tuesday, Mattis said the US military is "doing the planning" of Saudi Arabia's military campaign against Yemen.
"So this is a very dynamic sort of battlefield management," he said.
Mattis also admitted that the US has been involved in mid-air refueling of Saudi warplanes, claiming that the operation could help minimize civilian casualties in the war-torn country.
The Pentagon chief's comments contradict long-standing claims of a very limited, non-combat engagement in the Saudi war on Yemen. The US has previously said that it provides intelligence and logistical support.
The White House also claims that its involvement has nothing to do with the civilian death toll in the Arab country.
Saudi Arabia has been incessantly pounding Yemen since March 2015 in an attempt to crush the popular Houthi Ansarullah movement and reinstate former president, Abd Rabbuh Mansur Hadi, who is a staunch ally of the Riyadh regime.
The conflict has killed about 14,000 people in Yemen, displaced more than 2 million and driven the country to the verge of widespread famine.
Much of the Arabian Peninsula country's infrastructure, including hospitals, schools and factories, has been reduced to rubble due to the war.
Earlier this month, the US Congress voted against a resolution that sought to end America's support for the war.
Last week, the administration of US President Donald Trump approved weapons sales to Saudi Arabia totaling more than $1 billion, despite growing pressure from rights groups to halt arms deals between the West and Riyadh.
Amnesty International has slammed the United States, Britain and France for their continued arms sales to Saudi Arabia and the United Arab Emirates.
The UK-based rights group said the arms sales have been an "enormous harm to Yemeni civilians" over the course of the war.