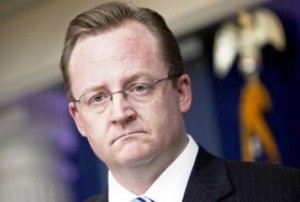 White House Press Secretary Robert Gibbs says Iran's recent missile test undermines its "claims" that its nuclear program is peaceful.
"I think there's no doubt that, given this environment, missile tests do nothing but undermine the Iranian claims," AP quoted Gibbs as saying on Wednesday.
"They're not productive. The Iranians still have the opportunity to live up to their responsibilities," he added.
"If they don't, then time will run out and we will move to the next step," Gibbs warned.
Iran successfully tested an optimized version of the solid-fuel Sejjil-2 missile on Wednesday as part of its long-term plans to defend the country's borders.
Gibbs' claims against Iran's nuclear program comes as the International Atomic Energy Agency (IAEA) inspectors have not found a shred of evidence to indicate that Tehran is trying to develop a military nuclear program.