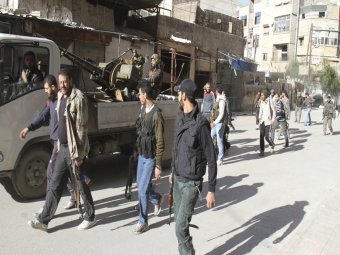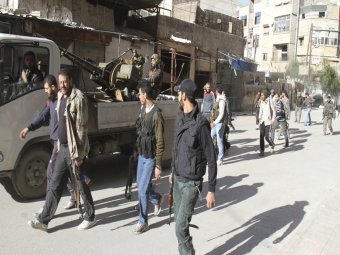 Free Army militia continues its criminal acts by shelling the residential areas of Damascus by mortars for the third day.
9 mortar shells, fired by members of the armed militia, have targeted, various areas of Damascus claiming human causalities and material damages, according to the reporter of Breaking News Network to Damascus.
3 civilians have been injured due to firing a shell on "Secondary valiant for high achievers" in al-Imam al-Nuri of al-Fahamah area, while another mortar shell has been fired behind the school "Baramkeh al-Muhdathe" for girls claiming the burn of many cares and no victims were recorded.
Two other mortars, fired by Free Army militia on al-Bekhtyar area near Abu Musa al-Ashari stallion, have fallen claiming material damages.
In Bab Toma, Free Army militants have fired 3 mortar shells on the surroundings of Derar mosque.