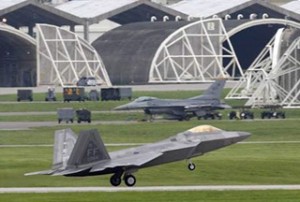 Tokyo and Washington issue a statement, saying a controversial American air base on the southern island of Okinawa would be relocated to a new site on the island in a bid to end a dispute between the allies.
"The United States reiterated its unwavering commitment to Japan's security. Japan reconfirmed its commitment to playing a positive role in contributing to the peace and stability of the region," the statement said.
The agreement reaffirms a 2006 pact that calls for the transfer of the base to a less crowded part of Okinawa.
However, it fails to fulfill Prime Minister Hatoyama's campaign promise to create a "more equal" relationship with the United States and move the air base off the island, the New York Times reports.
Hatoyama's decision has angered tens of thousand of island residents who complain about the noise, pollution and crime related to the air base. 10 to 20 percent of the island is currently given up to the US military.
A recent Nikkei newspaper poll shows that 59 percent of the Japanese questioned believe the prime minister should resign if he can't resolve the future of the Futenma military base, CNN reports.