North America
Palestine
World News
US Jews feel threatened, blame Trump for rising anti-Semitism: Poll
The majority of Jews in the United States say they feel less secure than they were two years ago, and they blame President Trump for the way he has handled anti-Semitism, according to a new survey.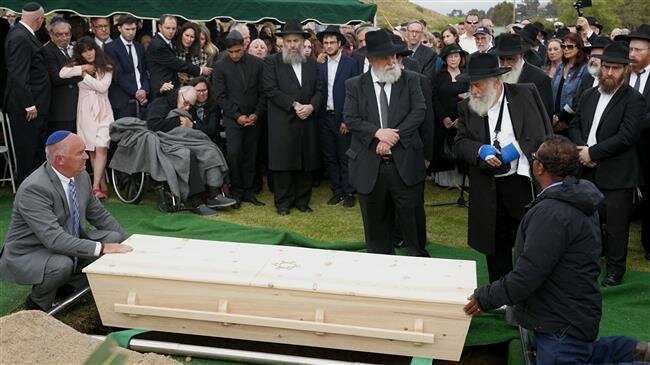 The poll, conducted by Greenberg Research, shows 71 percent of Jewish Americans disapprove of Trump and 29 percent approved, matching with polling since Trump's election.
Nearly 60 percent of respondents said Trump bears at least some responsibility for last year's shooting at Tree of Life synagogue in Pittsburgh, Pennsylvania, and last month's shooting at a synagogue near San Diego, California.
Experts say Trump is trying to help his 2020 election campaign by prolonging and weaponizing the debate over Israel and anti-Semitism among the Democratic Party, which has historically enjoyed more support among US Jews.
Anti-Semitic assaults in US doubled in 2018: ReportAnti-Semitic assaults in the United States more than doubled in 2018 and anti-Semitic incidents overall remain near all-time highs, according to a new report.
US political analysts say that the Trump administration hopes support for Israel will attract Jewish and Christian Zionist voters.
US evangelical and Zionist Christians are a loyal voter base for Republicans who believe the gathering of Jews in Israel is a prerequisite for the return of Jesus.
The new poll comes as anti-Semitic assaults in the United States more than doubled in 2018 and overall incidents against American Jews remain near all-time highs, according to a report released earlier in May.
There were 1,879 anti-Semitic and other hate incidents in the US against Jews and Jewish institutions last year, ranging from harassment to deadly shootings, the Anti-Defamation League (ADL), which tracks anti- Semitic attacks, said in its report.
The incidents occurred around the country but were concentrated in areas with large Jewish populations, the ADL said.
The organization also reported that 59 Jewish people were killed in 39 different anti-Semitic assaults in 2018, an increase of 105 percent over the number of assaults in 2017.
The ADL said that nearly all incidents of anti-Semitism, terrorism, and extremism in 2018 across the US were committed by individuals linked to right wing, anti-government or white supremacist groups.