North America
Syria
US-led airstrikes killed 3,222 civilians in Syria since 2014: Monitoring group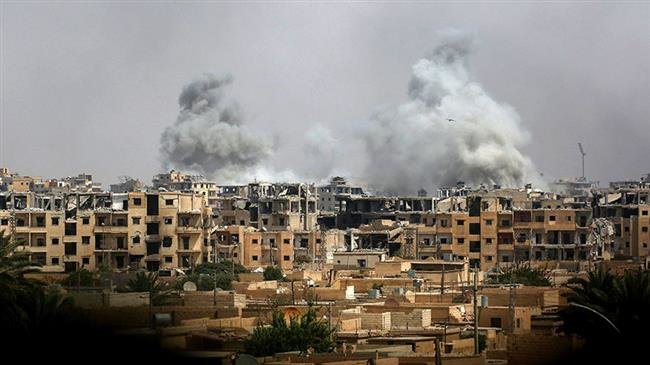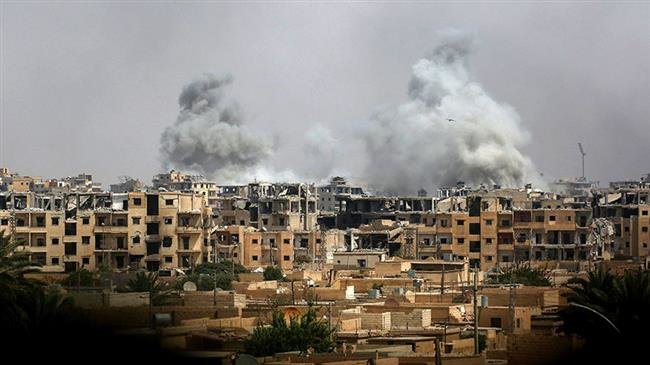 A so-called monitoring group says more than 3,200 civilians have lost their lives ever since the US-led coalition purportedly fighting the Daesh Takfiri terrorist group launched its aerial bombardment campaign in the conflict-plagued Arab country more than four years ago.
The Britain-based Syrian Observatory for Human Rights said on Thursday that as many as 3,222 civilians have been killed in the air raids.
There were 768 people under the age of 18 among the fatalities in addition to 562 female victims.
The US-led air raids also resulted in the injury of hundreds of civilians, some of whom suffered permanent disabilities and had to have their limbs amputated.
The monitoring group noted that the civilians were killed by US-led warplanes in Syria's northern province of Raqqah, northeastern province of Hasakah, northwestern Aleppo and Idlib provinces as well as Dayr al-Zawr province in the country's east.
Local sources, requesting not to be named, told Syria's official news agency SANA on Saturday that the death toll from separate aerial assaults conducted by the US-led coalition purportedly fighting Daesh in Syria's eastern province of Dayr al-Zawr had reached 62.
The US-led coalition fighter jets have reportedly targeted a small city in Syria's eastern province of Dayr al-Zawr with white phosphorus bombs.
The sources said an airstrike targeted the village of al-Susah on the outskirts of Abu Kamal city, leaving at least 15 civilians, including women and children, dead and many more wounded.
Thirty-seven civilians were also killed and tens of others injured when a US-led aerial attack pounded Osman ibn Affan Mosque.
Separately, at least 10 civilians were killed and many more wounded as US-led military aircraft struck Ammar bin Yasser Mosque in al-Bubadran village.
The US-led coalition has been conducting airstrikes against what are said to be Daesh targets inside Syria since September 2014 without any authorization from the Damascus government or a UN mandate.
The military alliance has repeatedly been accused of targeting and killing civilians. It has also been largely incapable of achieving its declared goal of destroying Daesh.
Addressing world leaders at the 73rd session of the United Nations General Assembly in New York on September 29, Syrian Foreign Minister Walid al-Muallem said the US-led coalition had been doing everything it could since the onset of its airstrikes but combat terrorism and militant outfits wreaking havoc in the Arab country.
Muallem described the military alliance as "illegitimate" and censured the "hegemonic policies" pursued by certain countries against the Damascus government.