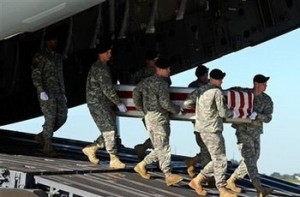 Another NATO soldier has been killed in southern Afghanistan as the death toll for the US-led troops continues to set new records in the war-ravaged country.
The Danish soldier died in a bomb attack in Helmand Province on Sunday. Four more Danish troops were injured in the blast.
So far 31 soldiers from Denmark have lost their lives in the war-torn country since the 2001 US-led invasion of Afghanistan.
Earlier, a bomb explosion wounded two German soldiers in the northern Afghan province of Konduz.
The Taliban have claimed responsibility for the attack on the German soldiers. A spokesman for the Taliban claims the blast destroyed the vehicle of the German troops, killing all aboard.
This week has been one of the deadliest for NATO troops in Afghanistan.
At least 30 troops serving with the military alliance under the US command have been killed in action over the past six days.
NATO currently has about 130,000 soldiers in the war-torn country. The US has plans to deploy 30,000 extra troops by August.