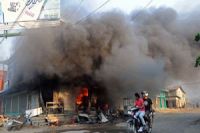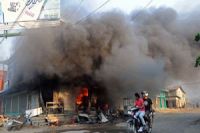 Press TV reports a top American Muslim cleric has warned against a global war on Islam spearheaded by the US, Zionist regime, and Saudi Arabia.
Abdul Alim Musa, Imam of Masjid Al-Islam from Washington said in a Sunday interview: "There is a continuation of the global war on Islam and Muslims all over the world. There is a blanket silence, whether it is Saudi Arabia, whether it is Bahrain, whether it is the continuous slaughter and bombing of Shia Muslims in Pakistan."
He pointed out: "Wherever you look around the world, you see that the Muslims are under the threats of violence."
The cleric slammed the UN silence and the international media blackout over the process of ethnic cleansing against Muslims in Myanmar, Pakistan, Bahrain and other parts of the Islamic world.
Musa argued that the ongoing war against the Muslim world is spearheaded by a "triangle of terror" comprised of the US, Zionist regime and Saudi Arabia.
The remarks come as, according to the latest reports, sectarian violence in central Myanmar killed more than 40 people on March 20 and displaced thousands of Rohingya Muslim minority which accounts for about five percent of Myanmar's population of nearly 60 million.
Last year, scores of Rohingyas were killed when Buddhist extremists carried out atrocities against Muslims in the western state of Rakhine. Thousands of Rohingyas were also displaced.