Human Rights
North America
World News
US nurses protest about 'lack of preparedness' amid coronavirus pandemic
Nurses in multiple US states are protesting at what they call "lack of preparedness" as the number of people tested positive for the coronavirus across the country has reached nearly 245,000.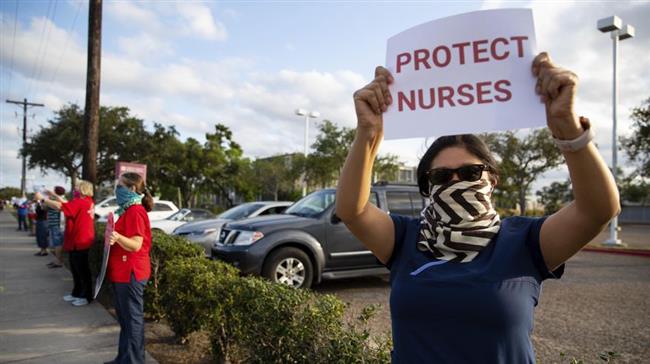 The protests were organized by the National Nurses Union, which represents 10,000 registered nurses at 19 hospitals managed by HCA Healthcare in California, Florida, Kansas, Missouri, Nevada and Texas,
The union is demanding optimal personal protective equipment (PPE) for nurses and other staff, and asserts that nurses working at HCA hospitals are not being notified when they have encountered a patient infected with the virus.
The protests took place outside six hospitals on Thursday with small gatherings that followed social distancing guidelines which ban groups of larger than 10 people from convening, according to Bradley Van Waus, National Nurses Union spokesman.
"When nurses aren't protected, patients aren't protected," Van Waus said. "We'll keep advocating until nurses get what they need."
Van Waus said the protesters were holding "COVID-19 checklist" posters as they gathered outside the hospitals.
"For the wealthiest hospital corporation in the United States to show such disregard for the health and safety of its caregivers is disgraceful and unconscionable," said Jean Ross, National Nurses United president, in a statement.
This comes as US President Donald Trump Thursday invoked the Defense Production Act to help companies that are building ventilators for coronavirus patients to receive the supply of materials they require.
Trump invokes Defense Production Act for ventilator manufacturing U.S. President Donald Trump on Thursday invoked the Defense Production Act to aid companies building ventilators for coronavirus patients to receive the supply of materials they need.
The companies to receive the supply include General Electric Co (GE.N), Hill-Rom Holdings Inc (HRC.N), Medtronic Plc (MDT.N), Resmed Inc (RMD.N), Royal Philips N.V. and Vyaire Medical Inc, according to a memo released by the White House.
"I am grateful to these and other domestic manufacturers for ramping up their production of ventilators during this difficult time," Trump said in a short statement released alongside the memo. "Today's order will save lives by removing obstacles in the supply chain that threaten the rapid production of ventilators."
The disease has so far claimed the lives of nearly 6,000 people in the United States, according to worldometers.info.