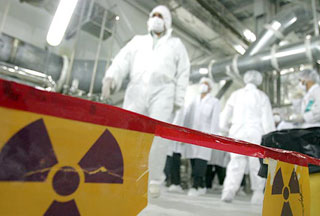 A US State Department spokesman says while keeping the engagement door open, the six major world powers are considering the next punitive measures against Iran.
Darby Holladay told AFP that the five permanent members of the UN Security Council (UNSC) plus Germany, known as the P5+1, are "in the process of considering next steps consistent with our dual-track policy."
"Even as we leave the door open to engagement," the spokesman said, new sanctions may be in the offing for Iran, should it fail to meet the West's demands over its nuclear program.
A senior State Department official also said, on condition of anonymity, that US President Barack Obama's administration was "pivoting" toward more sanctions against Iran while keeping "the door open to engagement."
The US says it will push for more sanctions against Iran, should Tehran refuse to accept a UN-backed draft deal which wants Iran to send most of its domestically-produced low enriched uranium (LEU) abroad to be converted into more refined fuel for the Tehran reactor that produces medical isotopes.
While Russia and China say they still favor diplomacy toward Iran's nuclear issue, Washington says the P5+1 states have agreed on a deadline for Iran to accept the draft deal.
Iran has, however, rejected any deadline, with President Mahmoud Ahmadinejad condemning Western pressure on the country over its nuclear program.
"They say we have given Iran until the end of the Christian year. Who are they anyway? It is we who have given them an opportunity," President Ahmadinejad said earlier in a speech in the southern Iranian city of Shiraz.
Iran has put forth a counter-proposal suggesting that 400 kilograms (880 lb) of its LEU be taken to Kish Island for a simultaneous swap with an amount equivalent to 20 percent of the original batch.
Iran wants the swap to be done on its soil, saying that there are no "concrete guarantees" that the country would in fact receive the fuel it requires.
Iranian officials say that certain Western countries had previously failed "to adhere to their nuclear commitments in dealing with Iran."
Iran is already under three rounds of UNSC sanctions over its nuclear work, which it says is peaceful in nature and in line with the framework of the Nuclear Non-proliferation Treaty (NPT).