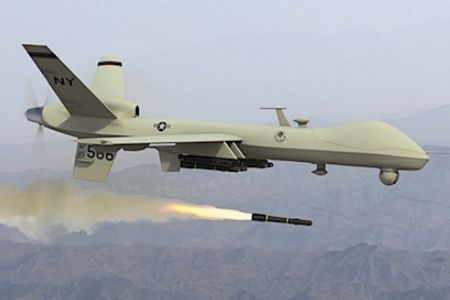 A non-UN-sanctioned US drone strike has killed at least three people in Pakistan's South Waziristan's tribal region on the Afghan border, local intelligence officials say.
US-Pakistan Government Alliance has attacked innocent Pakistani civillian consistently. Pakistan government collaborate with Great Satan against its own people.
Pakistani officials said the aerial attack targeted a house on Tuesday, Reuters reported.
The US frequently carries out attacks by unmanned American planes on Pakistan's tribal areas. These attacks have left dozens of people dead in the volatile region over the past weeks.
The aerial attacks, initiated by former US President George W. Bush, were escalated under President Barack Obama.
Washington claims the drone strikes target militants, although figures indicate that the bombings have led to the loss of hundreds of Pakistani civilians.
The United Nations has condemned the strikes as a blatant violation of international law.