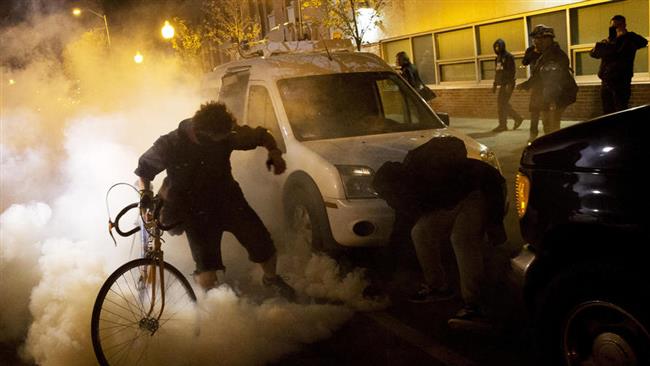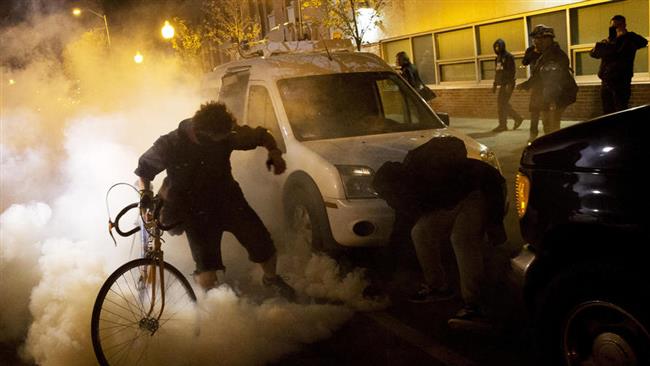 Clashes erupted between police officers and hundreds of protesters in the US city of Baltimore following days of demonstrations against police brutality in the country.
Police fired smoke bombs and tear gas to disperse the protesters who defied a curfew that took effect across the city late Tuesday.
The city is in turmoil after an African-American was killed of injuries suffered from police officers.
Freddie Gray, 25, was killed on April 19 and his funeral was held on Monday. The black man died one week after his spinal injury during arrest.
The peaceful protests turned violent after the funeral of Gray. More than 250 people have been arrested so far.
Baltimore Mayor Stephanie Rawlings-Blake imposed the curfew in response to the ongoing protests.
According to Maryland's Gov. Larry Hogan, 2,000 National Guardsmen and 1,000 law officers were deployed to the city following a state of emergency.
"This combined force will not tolerate violence or looting, which has led to the destruction of property and put innocent Marylanders at risk," Hogan said.
US National Guard are seen in Baltimore.
Police said 144 cars were set on fire and 15 buildings were destroyed.
Meanwhile, President Barack Obama blamed "criminals and thugs" for the violence.
"When individuals get crowbars and start prying open doors to loot, they're not protesting. They're not making a statement. They're stealing," Obama said.
"When they burn down a building, they're committing arson. And they're destroying and undermining businesses and opportunities in their own communities. That robs jobs and opportunity from people in that area," he added.
The unrest in Baltimore comes after American authorities ignored protests against police brutality in several cases during the past year.
Many protests were held across the US over the police killings of African-American men, including 18-year-old Michael Brown in Ferguson, Missouri; Eric Garner in New York; and Walter Scott in North Charleston, South Carolina.
Baltimore City Council Member Brandon Scott said the violence was fueled by "a long, long, longstanding issue with young African-Americans."
"We're talking about years and decades of mistrust, of misfortune, of despair that it's just coming out in anger," Scott said. "No, it is not right for them to burn down their own city. But that is what's coming out of these young people."