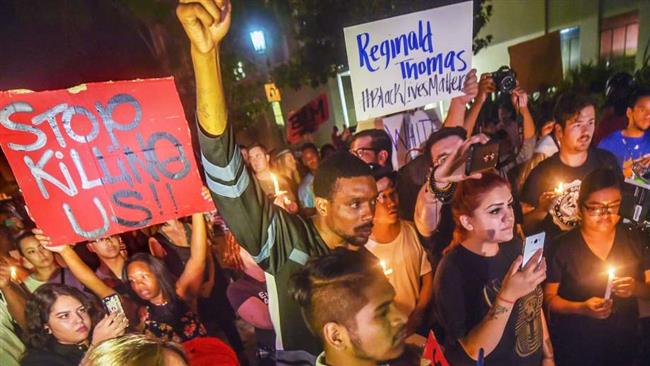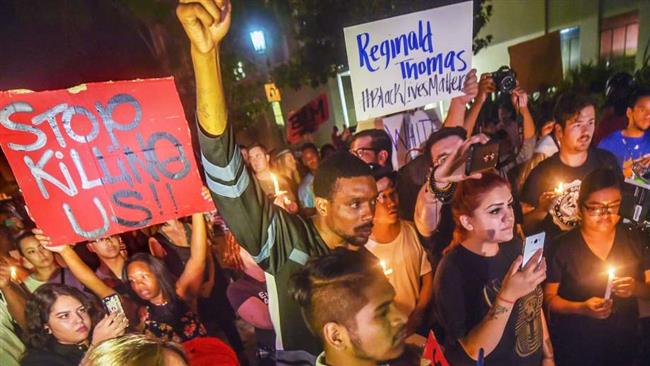 About 100 US demonstrators have marched in Pasadena, California, to protest the death of an African-American man who died after police officers used a Taser and physical restraints on him.
The protesters began marching at the apartment building where 36-year-old Reginald Thomas was killed Friday and made their way to the police department.
The protesters, many carrying signs, marched on streets, blocking traffic at some intersections in Old Town Pasadena.
Thomas's girlfriend, Shanie Lindsey, believes police used excessive force on him, who she says was mentally ill. "I'm hurt, disgusted, disappointed and just upset," she said.
"They knew he was disabled, they knew he was bipolar, they knew he was on social security, and they still killed him," she said.
Thomas was armed with a knife and "struggled with the officers" when they tried to detain him, said Captain Steven Katz of the Los Angeles County Sheriff's Department's Homicide Bureau.
After he was handcuffed, police noticed Thomas, who was the father of eight children, wasn't breathing. Both officers and paramedics tried to revive him, but he was pronounced dead at the scene.
The latest police killing came days after several African-American men were fatally shot by police in the states of California, Oklahoma and North Carolina.
On Tuesday, protests erupted in El Cajon, California, to condemn the police shooting of 38-year-old Alfred Olango who was also mentally ill.
A state of emergency and curfew were imposed for several days by authorities in North Carolina to quell unrest in Charlotte over the death of Keith Lamont Scott, a 43-year-old father of seven.
Experts from the United Nations have warned that African Americans in the US were facing a "human rights crisis" and they should receive reparations for slavery.
The US has not yet confronted its legacy of "racial terrorism," which has largely been fueled by impunity for police officers who have killed a number of black men across the country in recent months, according to the UN working group on people of African descent.
Those police killings "and the trauma they create are reminiscent of the past racial terror of lynchings," said the report, which was presented to the UN Human Rights Council on Monday.