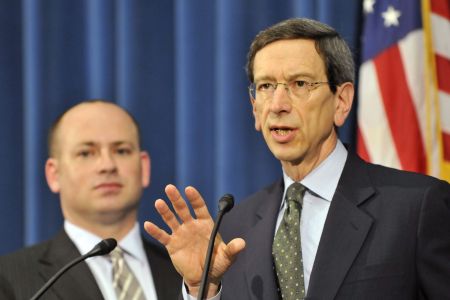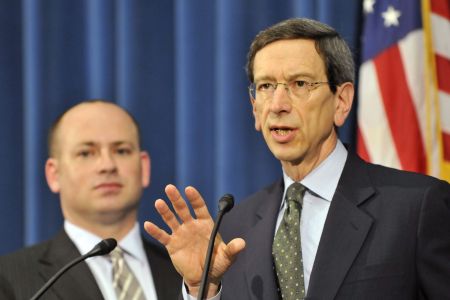 The US has initiated efforts to push Japan into imposing new sanctions against Iran over Tehran's nuclear program.
Robert Einhorn, US State Department's special adviser for non-proliferation and arms control met with Japanese officials at the US embassy in Tokyo on Wednesday to discuss the matter.
Einhorn, accompanied by Treasury Deputy Assistant Secretary Daniel Glaser, called on Japan to follow Europe's example and take "strong measures" against Iran.
"Japan imports a lot of oil from Iran, but the steps we are asking Japan to take would not interfere in any way with Japan's energy security, its imports of oil from Iran," AFP quoted Einhorn as saying.
"Japanese adoption of these strong measures would not adversely affect the economy of Japan," Einhorn claimed.
Despite massive international efforts by US officials to push other countries to impose additional sanctions on Iran, Tehran continues to insist that sanctions are futile and will not affect its economy nor its will to exercise the legitimate right to pursue civilian nuclear technology.
Remarks by US officials come a day after the Japanese government reportedly announced plans to follow the US lead to impose additional sanctions against Iran over its nuclear program.
The Cabinet of Japanese Prime Minister Naoto Kan approved a set of additional sanctions on Tuesday, including a freeze on the assets of 40 organizations and one individual, the official Kyodo news agency reported.
Iran has stressed that sanctions have no impact on its economy, saying they will only hurt those countries, which have taken such measures against Tehran.
Iran in May agreed to send its low-enriched uranium to Turkey in exchange for fuel for the Tehran research reactor.
The decision, however, was cold-shouldered by the West, with the US drafting a resolution, which was approved by the UN Security Council in June.
While the US possesses and has used nuclear weapons in the past, ironically against Japan, it is activly pressing its allies to impose unilateral sanctions on Iran, which does not possess nuclear weapons nor does it seek to develop such weapons.