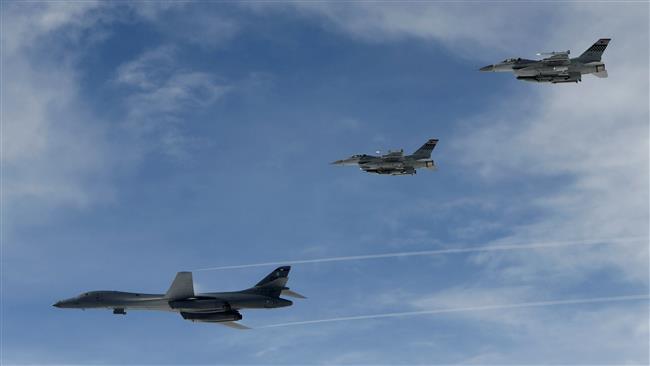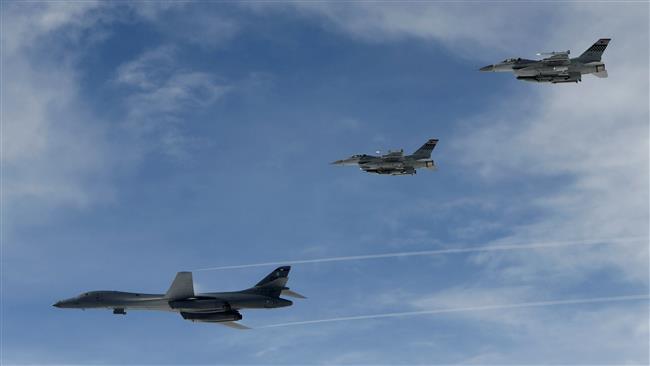 North Korea has issued a stern message regarding US military activities on the Korean Peninsula, warning that the US is pushing the peninsula to the brink of nuclear war.
"The US, with its dangerous military provocation, is pushing the risk of a nuclear war on the peninsula to a tipping point," read an editorial on North Korea's official newspaper Rodong Sinmun on Sunday.
The article, published under the title "Don't play with fire on a powder keg," described the Korean Peninsula as the "world's biggest tinderbox."
A day earlier, US bombers, jointly with South Korean forces, had conducted live-fire drills near the border with the North in a show of force in response to North Korea's recent ballistic missile launches.
Two US B-1B Lancers, deployed from the Anderson Air Base in Guam, flew close to the tense and heavily-fortified border between two Koreas and dropped weapons in a simulated destruction of an enemy ballistic missile launcher and underground facilities, the Yonhap news agency reported.
Pyongyang described the joint drill as a "dangerous military gambit of warmongers who are trying to ignite the fuse of a nuclear war on the peninsula."
"A small misjudgment or error can immediately lead to the beginning of a nuclear war, which will inevitably lead to another world war," the Sunday editorial read.
Last week, North Korea announced that it had successfully tested an intercontinental ballistic missile (ICBM), which Pyongyang claimed could "reach anywhere in the world."
US intelligence agencies said the missile was most likely a new ICBM with an estimated range of 5,500 kilometers and capable of hitting Alaska.
The North is currently under a raft of crippling United Nations sanctions over its ballistic missile and military nuclear programs.
The US has adopted a war-like posture against the North, routinely conducting drills with North Korea's regional adversaries.
The US has permanent military presence in South Korea, where it recently also deployed an advanced missile system.
North Korea accuses the US of plotting with its regional allies to overthrow the government in Pyongyang. It says it will not relinquish its nuclear deterrence unless the United States ends its hostile policy toward North Korea and dissolves the US-led UN command in South Korea.