North America
US riot police use tear gas, hit Portland protester with batons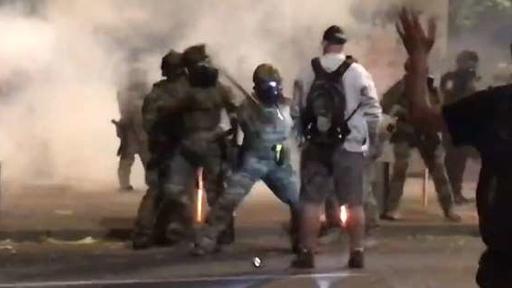 Federal law enforcement officers cracked down on protesters in Portland, Oregon, on Saturday, July 18, under the Trump administration's new executive order to protect US monuments in what the state's Democratic governor has called "political theater."
One video posted online shows a camouflage-clad officer beating a protester with their baton before another officer sprays him at close range in the face with pepper spray.
Demonstrators protesting against racism and police brutality have gathered around the federal courthouse daily in Portland since the killing of African American George Floyd during a May 25 arrest in Minneapolis, with crowds at times exceeding 10,000.
Portland police used tear gas on the protesters, some of whom sprayed graffiti on buildings, until Oregon Governor Kate Brown in early July banned its use except in the case of riots.
Media reports said federal agents had arrested 13 people, but there was no immediate confirmation from the authorities.
(Source: Reuters)