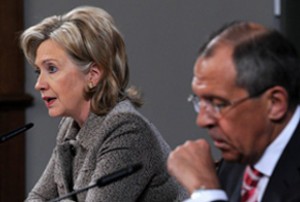 Moscow and Washington are very close to hammer out a new disarmament deal to replace an old agreement which expired in December.
At a joint news conference with his US counterpart Hillary Clinton on Thursday, the Russian top diplomat Sergei Lavrov said that the two former Cold War rivals are in the final stage of talks on a new deal that is going to slash strategic arsenals both in the US and Russia.
"We are at the end of the final straight and we hope that very soon the negotiators will announce that their work has been completed," the Russian foreign minister said.
Clinton is reportedly in Moscow to hasten a new deal on a Strategic Arms Reduction Treaty (START) with the Kremlin.
"We are making substantial progress on the new START treaty, that's the word from our negotiators in Geneva," said Clinton.
"And the results of the latest negotiation rounds lead us to believe we'll be reaching a final agreement soon," she added.
The US President Barack Obama and his Russian counterpart Dmitry Medvedev in July agreed the new agreement should cut the number of warheads on either side to between 1,500 and 1,675.
The United States currently possesses around 2,200 nuclear warheads, while Russia is believed to have about 3,000.