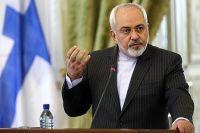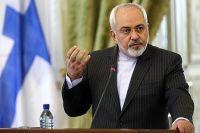 Iranian Foreign Minister Mohammad Javad Zarif deplored the US new sanctions against Iran as a violation of the Geneva nuclear deal, and warned that Tehran may reciprocate the Washington move.
"We have stated since the very first day that this (imposition of sanctions) is a dangerous and unconstructive view and method and runs counter to the spirit of the Geneva agreement (inked by Iran and the world powers in November to settle disputes over Tehran's nuclear program) and in some parts it can be a violation of the US undertakings based on the Geneva deal," Zarif said in a joint press conference with his Finnish counterpart Erkki Tuomioja in Tehran on Sunday.
Zarif said such measures make the problems between Iran and the Group 5+1 (the US, Russia, China, Britain and France plus Germany) even more complicated.
"Iran reserves the right to adopt similar reciprocal moves against these actions when necessary," Zarif underlined.
Yet, the foreign minister stressed that Iran is seriously committed to reach final results in its negotiations with the G5+1, and added, "We have shown to the world that we are after a solution."
His remarks followed the US government's announcement of a slew of penalties targeting dozens of Iranian individuals and entities, including shipping and oil companies, banks and airlines.