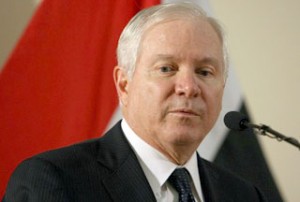 US Defense Secretary Robert Gates has accused Iran of moving toward the production of nuclear weapons but said that Iran is not "nuclear capable" yet.
"I'd just say, and it's our judgment here, they are not nuclear capable," Gates said in an interview. "Not yet."
Speaking to NBC's "Meet the Press," Gates said that Iran was "continuing to make progress" in its nuclear program, which Washington alleges also has a clandestine military component.
"It's going slower… than they anticipated. But they are moving in that direction," he claimed.
Gates denied that the US was resigned to Iran becoming a nuclear-armed power.
"We have not… drawn that conclusion at all. And in fact, we're doing everything we can to try and keep Iran from developing nuclear weapons," he said.
The Pentagon chief's comments come despite the fact that the International Atomic Energy Agency (IAEA) has never found a shred of evidence indicating that Iran is pursuing a military nuclear program.
Iran, which is an IAEA member and a signatory to the Nuclear Non-Proliferation Treaty (NPT), has repeatedly declared that the only aim of its nuclear program is producing energy for peaceful purposes.