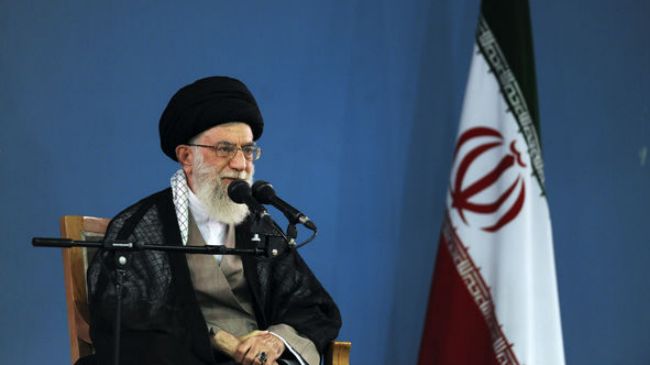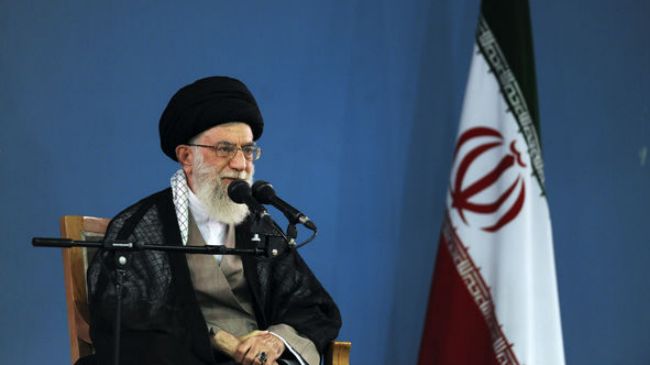 Leader of the Islamic Revolution Ayatollah Seyyed Ali Khamenei says Iran will not back down an iota from its rights, including its nuclear rights, and will never give in to pressure.
Addressing the commanders and members of the Basij volunteer force in Tehran on Wednesday, Ayatollah Khamenei said the rights of the Iranian nation, including its nuclear rights, must be recognized.
The Leader voiced support for the Iranian administration and officials, including the nuclear negotiating team.
Ayatollah Khamenei said he would not be directly involved in the details of the negotiations between Iran and the six powers and that there are certain red lines Iranian negotiators would have to observe.
The Leader of the Islamic Revolution expressed regret that certain European governments curry favor with Zionists who lack humanity.
"At a certain point, the French nation, because of their president standing up to the UK and the US, found political credibility, but now French politicians not only bow before America but also in front of the ominous and unclean Zionist regime and belittle themselves, and are a disgrace for the French nation…," said Ayatollah Khamenei.
The Leader of the Islamic Revolution also said Iran's enemies think they can bring the Iranian nation to its knees by imposing sanctions.
The Leader said, "Sanctions will be ineffective and the Americans are aware of this because they have always used military threat along with sanctions" which mean sanctions cannot help them reach their goals.
Ayatollah Khamenei went to say that the military threats issued by the American president and other American authorities are "hateful and disgusting."
The Leader said the enemy's mistake is "not learning from its past mistakes."
"The US president and other American officials, instead of [issuing] military threats against Iran should find a solution to their in-ruins economy and their debts…," said the Leader, urging US officials to find a solution to their economic woes and prevent two-week government shutdowns from happening again.
The Leader went on to say that contrary to the beliefs of certain people, heroic leniency does not mean giving up the ideals of the Islamic establishment and means artistic maneuvers to achieve objectives.
Ayatollah Khamenei said a number of enemies used this as a pretext to accuse the Islamic establishment of backtracking on its principles which is untrue and a misunderstanding.