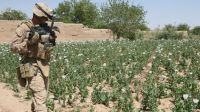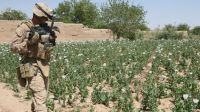 An Iranian lawmaker says the United States seeks long-term presence in the war-torn Afghanistan in order to control drug trafficking in that country.
According to IRIB, Mohammad-Hassan Asafari, member of Majlis National Security and Foreign Policy Committee, said Saturday "The US seeks long-term presence in Afghanistan with the aim of controlling drug trafficking."
He added that the US has been deploying forces to Afghanistan for a decade to allegedly bring democracy and peace to the Afghans, but the US military presence has only brought insecurity and tension to the war-ravaged country.
Asafari stated that the US has sent its troops thousands of kilometers away to Afghanistan with the sole goal of taking drug cultivation, production and trafficking under its control.
The United Nations Office on Drugs and Crime (UNODC) said in a recent report that narcotics production and drug smuggling have increased in Afghanistan since the US-led invasion of the country in 2001.
The office added that some 95 percent of the drugs are cultivated in the southern and eastern provinces of Afghanistan which are mainly controlled by American and British forces.