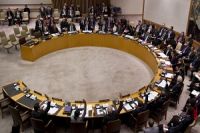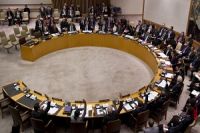 Pyongyang says the United States seeks to overthrow the North Korean system, rejecting any dialogue with Washington over its nuclear program and human rights record.
North Korea "will never allow any human rights dialogue or nuclear one with the enemy keen to overthrow it," a Foreign Ministry spokesman said on Tuesday through the official Korean Central News Agency (KCNA), Press TV reported.
The spokesman, whose name was not mentioned in the report, went on to say that talks to denuclearize North Korea are meaningless because as the other party to the negotiations, i.e. the US, pursues a policy of toppling North Korea and its social system over human rights issues.
"It is self-evident that one party cannot discuss its unilateral disarming with the rival party keen to bring it down at any cost," the spokesman noted.
Last month, North Korea's Ambassador to the UN So Se Pyong expressed willingness to resume six-party talks on the country's nuclear program. The negotiations, which were held until 2008 before they broke down, involved Russia, China, Japan, the US and South Korea.