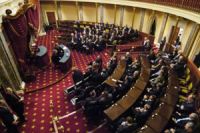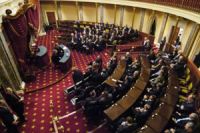 Two American senators, who are architects of US sanctions on Iran, Robert Menendez and Mark Kirk, have announced that the representatives of Obama administration have persuaded them not to impose new anti-Iran sanctions.
According to IRIB World Service, the US Senator, Robert Menendez, who chairs the US Senate Committee on Foreign Relations, and the Republican Senator, Mark Kirk, pointed out that following a confidential meeting with the US Vice-President, Joe Biden, the US Secretary of State, John Kerry, and the US Treasury Secretary, Jack Lew, they were persuaded not to push for more sanctions against Iran.
Meanwhile, the US administration representatives will sit behind the negotiating table with Iran's representatives in two days within the framework of Iran-5+1 Group talks in Geneva.