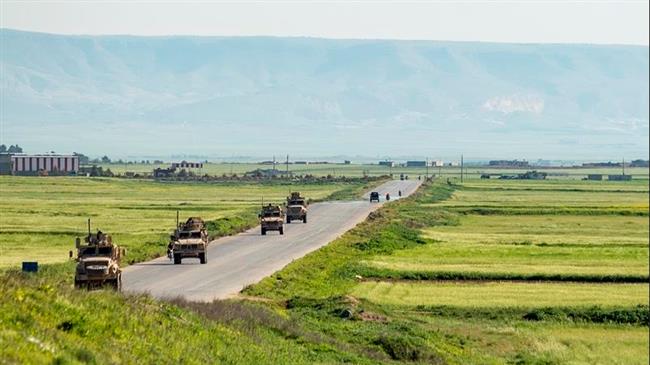 US forces have reportedly dispatched a convoy carrying logistics supplies from Iraq to Syria's Kurdish-populated city of Qamishli in the northeastern province of Hasakah.
Local sources told Syria's official news agency SANA that the convoy consisting of 35 vehicles carrying cement blocks and logistic supplies entered Syria via the al-Walid border crossing point on Saturday.
The sources said the convoy headed from al-Yaroubiya countryside northeast of Hasaka towards US bases near Qamishli.
The so-called Syrian Observatory for Human Rights (SOHR) also reported that nearly 50 US trucks carrying logistical supplies had crossed into Hasakah city, via al-Walid crossing on Iraq's border to support militants from the so-called Syrian Democratic Forces (SDF).
Syrian villagers force US military convoy to return to base
Local people in a northeast Syrian village stop a US military convoy and forced it to return to its base.
On April 10, the UK-based group reported that a convoy of military reinforcement including 25 military vehicles and trucks carrying ammunition had arrived at the US base in al-Shaddadi city, south of Hasaka.
The US has long been providing the SDF with arms and militant training, calling them a key partner in the purported fight against the terrorist group of Daesh. Many observers, however, see the
support in the context of Washington's plans to carve out a foothold in the Arab country.
Such support has also angered Washington's NATO ally, Turkey, which views militants from the Kurdish People's Protection Units (YPG) – the backbone of the SDF – as a terrorist organization tied to the homegrown Kurdistan Workers' Party (PKK) that has been waging a destructive war inside Turkey for decades.
US military brings in 35 trucks to oil-rich northeastern Syria: SANA
The US military dispatches 35 truckloads of military and logistical equipment to its positions in Syria's northeastern province of Hasakah, SANA says.
In late October 2019, Washington reversed an earlier decision to pull out all of its troops from northeastern Syria, announcing the deployment of about 500 soldiers to the oil fields controlled by
Kurdish forces in the Arab country.
The US has also deployed new troops to the Ain al-Asad base in the western Iraqi province of Anbar as well as new Patriot missile systems and Counter Rocket, Artillery, and Mortar (C-RAM)
systems to a number of Iraqi bases it has occupied.
Turkish forces set up military base in Tal Abyad
Sources close to the SOHR also confirmed Saturday that Turkish forces had been setting up a large military base on the road between Tal Abyad district and northern city of Raqqah.
Turkish forces wrecked a piece of the border wall opposite Abduki village Friday, in order to bring in new diggers and earth-moving machines into the Syrian territory.
Turkey's moves come despite a recent ceasefire deal that Ankara has signed with Moscow to halt the escalation of violence in northern Syria.