Korea
US should drop sanctions in response to North Korea's show of good faith: Editorial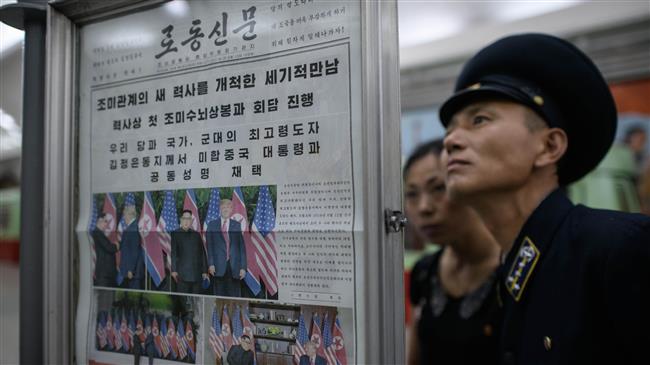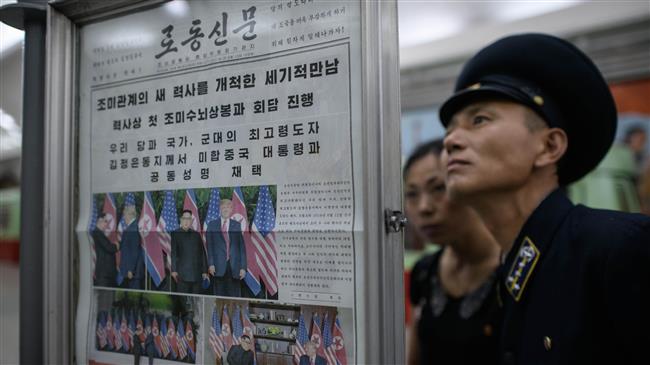 North Korea says the United States should lift its sanctions now that Pyongyang has shown good faith by stopping nuclear tests and handing over the remains of American soldiers killed in the Korean War.
The official newspaper Rodong Sinmun wrote in an editorial on Monday that Pyongyang's "practical measures" under its recent agreement with the US render UN Security Council resolutions – which have placed tough bans on North Korea – meaningless.
The editorial censured Washington for "acting opposite" to its plan to improve ties with the North as promised in a historic summit between North Korean leader Kim Jong-un and US President Donald Trump in Singapore on June 12.
Following the summit, the two leaders issued a broad statement on working towards denuclearization and better diplomatic relations. Washington and Pyongyang are now struggling to reach an agreement on ways to accomplish that goal.
Immediately after the Singapore agreement, Trump declared that North Korea was "no longer a Nuclear Threat" to the US.
Pyongyang has so far stopped nuclear and missile tests; dismantled a nuclear site; and late last month, returned the remains of US soldiers killed in the 1950-53 Korean War.
The US has been the main sponsor of the UN resolutions slapping bans on the North. Washington has also targeted Pyongyang with a set of unilateral sanctions over its military program.
"There have been outrageous arguments coming out of the US State Department that it won't ease sanctions until a denuclearization is completed, and reinforcing sanctions is a way to raise its negotiating power," the paper wrote.
"How could the sanctions, which were a stick the US administration had brandished as part of its hostile policy against us, promote the two countries' amity?" asked the editorial.
The latest call came two days after the North's Foreign Minister Ri Yong Ho warned that the US "is raising its voice louder for maintaining the sanctions against" North Korea.
North Korean news website Uriminzokkiri also denounced the sanctions and the US pressure campaign as "anachronistic" and a hurdle for better relations.
South Korea, which had a crucial role in the recent rapprochement between Washington and Pyongyang, also urged the US to show a sincere attitude toward what North Korea demands as corresponding action, according to a spokesman for the South's presidential Blue House on Monday. He also called on Pyongyang "to speed up denuclearization."
The North, however, says it will not "move forward first unilaterally" until the US does not show in practice its strong will to remove the country's concerns.
This is while a confidential United Nations report, seen by Reuters on Saturday, said the North was still developing its nuclear weapons programs.