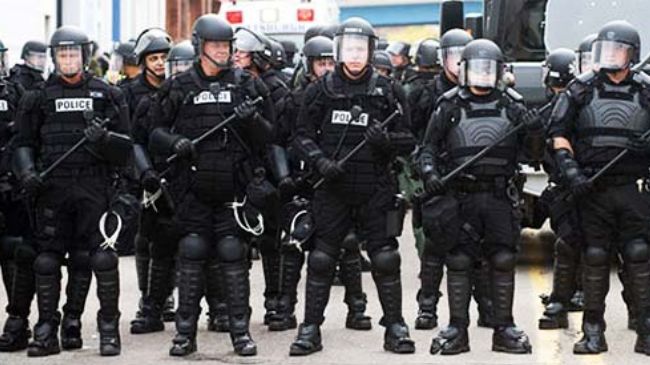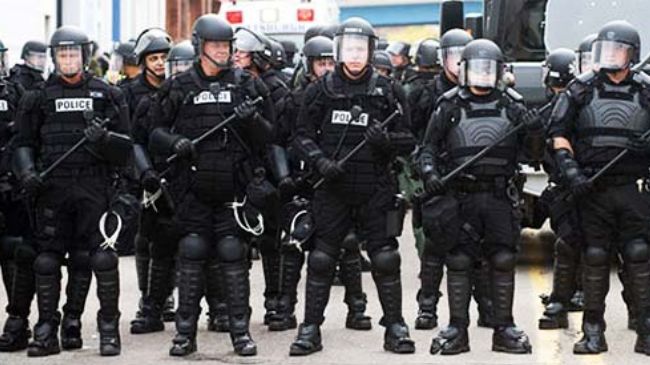 The streets of America's cities are increasingly looking like war zones, a post-9/11 development that some blame for last week's D.C. shooting of a distraught, unarmed woman. But that same culture of fear is now playing out in small towns and rural areas as well.
Last week, Watertown, N.Y. – home to the country's oldest continually operating county fair and the smallest city to have a park designed by Frederick Law Olmsted – became the newest owner of the 20-ton, $600,000, heavily armored, insurgent-repelling Mine Resistant Ambush Protected vehicle, or MRAP, designed for wars in Iraq and Afghanistan now winding down, leaving a gluttonous trail of some $4.2 billion in underused military hardware in their wake.
Jefferson County officials voted to accept the MRAP, with its bulletproof glass and gunner turret, despite critics' arguments citing its impracticality – at 25 feet long it gets 3 mph, has a top speed of 65 and has the turning capacity of "a derelict coal barge" in an area with almost no violent crime that boasts of its "small town appeal."
It thus matches the kinds of areas where, studies find, the preponderance of the Defense Department's detritus finds its way.
MRAPs, military-grade SUVs, weapons and other military leftovers have gone to "itty bitty towns" in Tennessee, Alabama, Texas and North Carolina and several other states, as well as Ohio State University, all with little or no oversight and disastrous failures of accountability as a result.
The farming community of Morven, Ga., known for its peach festival and with a population of about 700, has gotten over $4 million in stuff, including a $200,000 decontamination machine missing most of its parts, a shipment of bayonets, three boats and scuba gear though it has no water, a fleet of heavy machinery used to build a firing range, tents, blankets, gym equipment and sandbags, even though the police chief admits that, "Even my worst drug dealer here, if I was broke down on the side of the road, they would stop and help."
What will happen, many wonder, when America's warrior cops land in her formerly innocent "little itty bitty" towns? – See more at: http://www.presstv.ir/detail/2013/10/08/328195/us-small-towns-buy-heavily-armored-mrap/#sthash.aRmwj3qC.dpuf