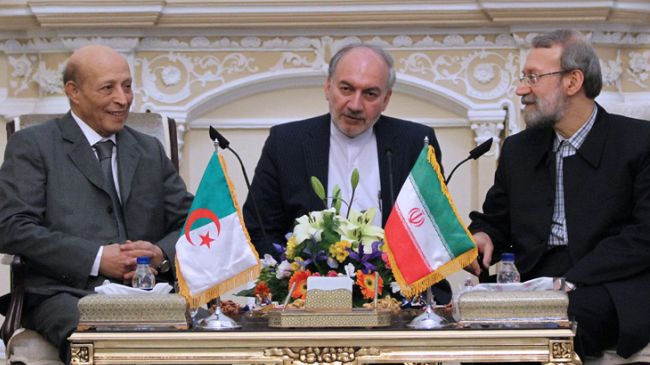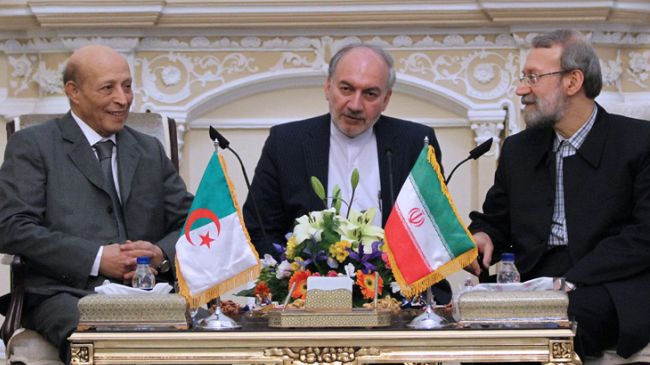 Iranian Majlis Speaker Ali Larijani says the United States and its allies are spreading "extremism" in the Middle East under the guise of combating terrorism.
"The United States and some of its allies have instigated a wave of extremism in the [Middle East] region under the pretext of fighting terrorism, attempting to create division among Muslims," said Larijani in a Monday meeting with Speaker of Algerian National People's Assembly Mohamed Al-Arabi Ould Khalifa in Tehran.
Khalifa is in Tehran to participate in the ninth meeting of the Islamic Inter-Parliamentary Union (IIPU), which has been underway in the Iranian capital since February 14.
Larijani further hailed the "longstanding" and "brotherly" relations between Iran and Algeria, stressing the need for the enhancement of Tehran-Algiers ties in all areas, particularly in the economic sphere.
The senior Iranian official further called for more frequent negotiations between Iranian and Algerian officials over the issues of bilateral and regional significance.
The Algerian parliamentary official, for his part, described Iran as an important and influential country in the Muslim world, saying that the IIPU meeting provides an opportunity to discuss the problems in the Islamic world.
Khalifa also touched upon the nearly three years of the bloody turmoil plaguing Syria, saying that the foreign-sponsored crisis must be resolved through dialog among Syrian groups free from foreign interference.
Syria has been grappling with a bloody turmoil since March 2011. Some reports says over 130,000 people have so far been killed and millions of others displaced because of the Takfiri militancy in the country.